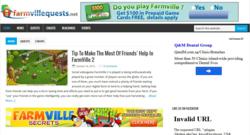 FarmVilleQuests.net was created by and for Farmville fans in an aim to keep them updated with what's new on the game.
Phoenix, AZ (PRWEB) November 23, 2012
One of the most popular farming simulation games to have captured the hearts of casual gaming enthusiasts is Farmville. The game, which is based on how to grow a farm through player actions can sometimes be as wacky as planting and harvesting crops to buying zebra unicorns to playing match maker to polka dot livestock.
Developed by Zynga, the world's leading provider of social game services, Farmville became a hit among Facebook users. Based on daily average users, the game climbed to the top of the most played list on the top social networking site between August 2009 and December 2010.
FarmVille – along with Zynga games CityVille, Zynga Poker, Draw Something, Hidden Chronicles, CastleVille, Words With Friends, Empires & Allies, Scramble With Friends, Café World, The Pioneer Trail, Indiana Jones Adventure World and Mafia Wars – take more than with more than 240 million monthly active users on a number of global platforms.
In 2010, the game bagged the "Best New Social/Online Game" award in the Game Developer's Conference.
FarmVilleQuests.net was created by and for Farmville fans in an aim to keep them updated with what's new on the game. The website discusses the many talks surrounding Zynga's recent confirmation of the development of the game's sequel, FarmVille 2.
In addition, information about the reported release of three new versions of the Ville franchise is also comprehensively discussed on the website.
Beyond providing Farmville game updates, FarmvilleQuests.net also offers valuable tips and cheats, with details categorized under Farmville Quests, Cheats, Buildings and Events sections, each of which is filled with Farmville photos and videos.
It also focuses on requirements and rewards that await players who are able to complete a chapter or more in the game.
To know more about the latest in Farmville and the upcoming titles, please visit http://www.farmvillequests.net for information.
ABOUT
FarmvilleQuests.net is dedicated to providing Farmville fans up-to-date data about the highly popular game on various platforms, with emphasis on the new versions of the Ville franchise that is reportedly to be released soon.