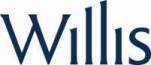 Auckland, New Zealand (PRWEB) November 08, 2012
Willis New Zealand Limited, a subsidiary of Willis Group Holdings (NYSE:WSH), the global insurance broker was named "Large Broking Company of the Year" at the recent 2012 New Zealand Insurance Industry Awards held in Auckland.
Willis' service model and client advocate approach, clearly demonstrated by its business retention rate of 97% over the last three years, impressed the panel of 10 judges, supported by independent evaluation from the New Zealand Business Excellence Foundation. Willis places strong emphasis on the knowledge and skills of its employees across the world as professional advice is a core part of its business. Local teams work seamlessly with overseas offices to provide a truly global service offering. The judging panel also commended Willis' monitoring of client and insurer relationships in its business approach.
Willis has a strong presence in New Zealand with 83 Associates covering three offices in Auckland, Wellington and Christchurch. The broker recorded high single digit organic growth in the country last year. CEO of Willis New Zealand, Peter Lowe, who accepted the prize in Auckland last Thursday, said: "Quality service and trusted client and carrier relationships are the foundations of our business at Willis and this award recognises that. It also credits the quality and dedication of our people who work hard each day to help our clients manage risks and safeguard their businesses."
Hosted by the Insurance Brokers Association of New Zealand (IBANZ) in partnership with the Australian and New Zealand Institute of Insurance and Finance (ANZIIF), the awards recognised outstanding achievement in the New Zealand insurance market. Entrants in the "Large Broking Company of the Year" category were judged on customer service and innovation, claims handling, retention and financial results, professional development of staff and efforts undertaken to support and promote the insurance industry.
Willis Group Holdings plc is a leading global insurance broker. Through its subsidiaries, Willis develops and delivers professional insurance, reinsurance, risk management, financial and human resource consulting and actuarial services to corporations, public entities and institutions around the world. Willis has more than 400 offices in nearly 120 countries, with a global team of approximately 17,000 employees serving clients in virtually every part of the world. Additional information on Willis may be found at http://www.willis.com.