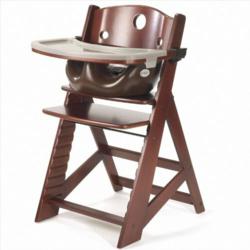 Best High Chair!
(PRWEB) November 09, 2012
Bliss Baby & Maternity is happy to announce the Keekaroo Height Right High Chair! The Keekaroo has been placed as number 3 on the top 10 highchairs list according to Top Ten Lists.
Few baby products endure as much use as high chairs. Not only does a high chair need to hold baby securely during mealtime. High chairs also should be easy to clean and have other features that work with a family's lifestyle.
Here are some things to look for when considering the purchase of a high chair.
Comfort – Learning about eating can be hard work and frustrating so make it a comfortable experience.
Durability – Remember that baby is going to us the high chair for up to two years and beyond if the right high chair is purchased. Keekaroo is a convertible high chair that can be used for playing and eating for many years to come.
Tray - The stray should be a good size with high edges to prevent food from falling on to the floor. The Keekaroo has a large plastic tray with edges to use when baby is young and this can be removed for easy cleaning. A removable tray makes cleaning much easier
Seat Cushion- Many highchairs are PVC covered which is soft and warm to sit on, but also prone to wear and tear and doesn't take kindly to disinfectant. The Keekaroo offers a replaceable comfortable high chair insert that is easy to clean and durable. The Keekaroo high chair insert is available in many fun colors.
As soon as the time is proper for a highchair, the advantages will be seen right away. No more crouching down for feeding and baby will feel part of the household seated at table-height to eat meals.
Use the highchair as a play chair, by putting toys around the tray and letting baby entertain him- or herself as moms can get with other things. The Keekaroo High Chair converts to a chair that toddlers and also more mature kids can use. As long as the child is strapped in, a highchair will provide a secure eating location along with a fantastic viewing place for her or he to watch whatever is going on.
Some high chairs are designed to be pushed up to the table, others recline for naps and some have awesome toys to keep baby entertained. The keekaroo high chair offers all of that plus it is durable, cleanable and it has a good mix of the other convenient features.
A wooden high chair should be a safe, comfortable space for baby - it's best to have an adjustable, cushioned high chair for infants. That's why the Height Right High Chair in Mahogany (other finishes available) with Infant Insert and Tray by Bergereon is the perfect choice.
The Infant Insert is a soft cushion that provides a cushioned seating solution during mealtime for children under 3 years old. Made of soft to the touch materials, the Infant Insert is proud to be made in the USA. The Infant Insert is made of a BPA-Free and Latex-Free material that is peel and tear resistant. The insert also offers antimicrobial protection and is impermeable to liquids. Easy to clean with warm water, the Infant Insert will withstand the messiest eaters. A built in pommel and 3-point safety belt helps to keep the child seated properly. When used with the included tray with cover, the Keekaroo High Chair and Infant Insert are JPMA certified to the highest ASTM standards for children up to 3 years old.
The Plastic Tray Cover is dishwasher safe and helps to protect the wooden tray surface. It is made of plastic that meets or exceeds all CPSC requirements and is BPA Free. Assembly level/degree of difficulty: Easy.
Features Include:

JPMA certified
Made in USA, soft-to-the-touch material creates a comfortable seating option
Peel and tear-resistant latex free seamless material that is impermeable to fluids
Adjustable foot and seat plate allows chair to seat from 6 months up to 250 pounds
Eating tray, dishwasher safe tray cover and infant insert included
Please visit http://www.blissbabyandmaternity to find the Keekaroo Height Right High Chair. While there, check out all the other fantastic products that we carry.