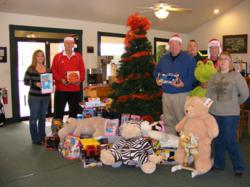 "The golf tournament gives the community a chance to come together as one, to give to those in need. It does the heart good to give."
Canton, TX (PRWEB) November 10, 2012
On December 2, 2012 Twin Lakes Golf Course in Canton, TX will hold their 3rd Annual Toy Drive and Golf Tournament benefiting the Van Zandt County Sheriff's Department. Toys collected will go to underprivileged children in Van Zandt County that may not have Christmas gifts this year.
Carri Dekkers from Twin Lakes Golf Course says she expects 116 golfers to attend this year's event and to have over 200 unwrapped toys for donation. Ms. Lakissha Peek of The Van Zandt County Sheriff's office anticipates helping from 75-100 children this year. Last year they were able to help 80 children.
When asked how this toy drive began Dekkers remembers, "Our head golf pro, Randy Wade, approached us with this idea three years ago. He works very hard to not only fill the course, but to have sponsors throughout the area pitch in to give the kids an unforgettable Christmas. The staff has stepped up alongside him and done a great job at promoting the Toy Drive and we can't wait to see what 2012 brings!"
Toys are brought in from the golfers, the Twin Lakes staff and other sponsors from the community. Dekkers describes the atmosphere of each toy drive, "It's beautiful to see the golfers check in the day of the event with toys under their arms, piling them up around the tree and getting excited for Christmas." She says the main goal of this tournament is to bring in toys for the kids and provide some great prizes for the golfers.
Ms. Peek says that last year, in addition to helping children, they were able to help the elderly in the Van Zandt community too. The Sheriff's office contacts all the nursing homes in the county to acquire a list of individuals who have no family and present them with a gift bag. They were able to help 60 individuals last year.
Ms. Peek indicates that the Golf Tournament and Toy Drive are very important to the county, as it enables the office to use its other funds in the association for much needed jackets and clothing for the children instead of having to spend it on more toys. She states, "without it we would not be able to assist as many needy children as we have in the past."
Dekkers explains that Twin Lakes holds this annual event because, "Our passion is to give back to our community and to help wherever there is a need. We feel blessed to be able to work and play at this beautiful place and want to share it with others. To be able to host an event that can be very enjoyable while raising money for a great cause is a wonderful opportunity!"
Dekkers says that the best thing about the toy drive is, "knowing that every child in the community can have a new toy under their tree." Ms. Peek appreciates that, "the golf tournament gives the community a chance to come together as one, to give to those in need. It does the heart good to give."
In addition to the toys, the Sheriff's office accepts monetary donations to provide any extra needs and for last minute families that come to us for help. For example, last year we were able to help four families with their entire Christmas dinner and groceries for a few weeks. Ms. Peek encourages everyone to donate an unwrapped toy or money by coming out to the golf tournament and toy drive or contacting Kissha or Renee at 903-567-4133 ext 460. If you know of any families in need, please do not hesitate to contact the Van Zandt County Sheriff's office at the same number. There is a simple application process to acquire assistance. Due to the generosity of the community over the past, "not one needy child has been turned away" says Ms. Peek.
Twin Lakes Golf Course has hosted 32 fundraiser tournaments this year and has raised over 100,000 dollars. This Toy Drive seems to be the crowning event for Twin Lakes.
Twin Lakes Golf Course was designed by Robert Hay and established in 1998 by Dion Dekkers. Twin Lakes is surrounded by a 900 acre tree farm also owned by Mr. Dekkers. TexasOutside.com ranked Twin Lakes Golf Course in Canton as one of the top 25 in the state, and The Dallas Morning News listed it among its favorite mid-priced courses in Texas. There are 51 bunkers and six total water carries that are made easy to navigate with the ProLink onboard GPS system in the golf carts. Contact Twin Lakes Golf Course at 903-567-1112 or go to their website http://www.twinlakesgolfcourse.com for more information on the Toy Drive or golf fundraisers.