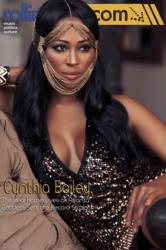 Following my heart and my instincts has served me pretty well so far, and I don't plan on changing my strategy now. I'm 45 years old, and while I'm still learning, I think I've been able to figure out a few things about life.
Atlanta, GA (PRWEB) November 10, 2012
Celebrity photographer and wordsmith DeWayne Rogers photographs supermodel, reality star and entrepreneur Cynthia Bailey for an upcoming edition of rolling out magazine.
Rogers and Bailey bond as the glam squad, including hairstylist Nataki Minix, makeup artist Parra Thomas, and wardrobe stylists Satchel Jester and Mychael Knight, of "Project Runway" fame, curate the goddess-in-the-wild theme.
"Every time I do a shoot, it always feels like the first time. I place the same amount of energy and focus into it as I have over the course of the past 25 years," Bailey enlightens.
"I am very honored to be working with Cynthia Bailey – supermodel extraordinaire – because she knows the fashion business and she is a model in every sense of the word," offers Knight.
"Cynthia is a great canvas," adds Jester. "With her, it's not about trends. It's about timeless photos and looks that will span decades."
Visit rollingout.com for the one-on-one interview with the glamazon. Be sure to check out this exclusive photo shoot and behind-the-scenes video by DeWayne Rogers on rollingout.com.
ABOUT rolling out MAGAZINE/MEDIA
Rolling out, the nation's largest free urban weekly, is a digital and print magazine that focuses on the black experience in response to entertainment, politics, fashion, culture, sports and lifestyle points of interest. Headquartered in Atlanta, rolling out is positioned as the voice for the urban experience, using its newspaper as a platform in the marketplace to express urgency for education reform, and to document entrepreneurial endeavors and other relevant issues in the Diaspora. For information on rolling out, please log on to http://www.rollingout.com.