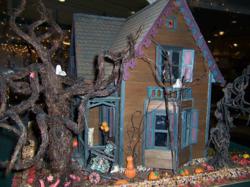 (PRWEB) November 09, 2012
More than 90 dollhouses and thousands of miniatures will be displayed at the Glenn H. Curtiss Museum from Saturday, November 17 through Tuesday, February 19. Several recent additions to the museum's dollhouse collection will be featured. Area miniaturists will also exhibit a wide range of treasures, including dollhouses of every style, genre and theme; miniature machinery; model ships; trains, and military figures. Collectors, families and individuals of all ages will enjoy browsing this extensive exhibit. New this year will be a collection of miniatures crafted from unusual materials, including a spectacular rendition of Boldt Castle made from 20,000 toothpicks.
Admission to the Miniatures and Dollhouse Exhibit is included in the regular museum admission of $8.50 for adults, $7.00 for seniors, $5.50 for students ages 7 to 18 and $25 for families. Children ages 6 and under are admitted free.
The Annual Miniatures Vendors Show and Sale will be held on Sunday, November 24 from 10 a.m. to 4 p.m. Local and regional vendors will offer a wide variety of items for collectors and holiday shoppers. For special museum admission rates of $6.00 for adults and $2.50 for students, visitors will have access to the Vendors Show and Sale, as well as the full museum.
The Glenn Curtiss Museum, which is located at 8419 State Rt. 54 in Hammondsport, is open daily from 10 a.m. to 4 p.m. The museum is located at 8419 State Rte. 54 in Hammondsport.
For more information, contact the museum at (607) 569-2160.
About the museum
The Glenn H. Curtiss Museum is located in Hammondsport (named Coolest Small Town for 2012 by Budget Travel magazine) in the scenic Finger Lakes Region of New York State and is home to a priceless collection relating to early aviation, bicycle and motorcycle transportation and local history. The museum celebrates the life and accomplishments of Glenn Curtiss, who is remembered as the father of naval aviation and the founder of the American aircraft industry.
For more information, visit the museum website at http://www.glennhcurtissmuseum.org.