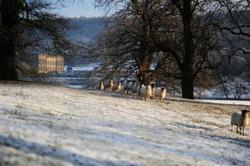 There's so much to write about
Peak District, UK, 9th November 2012 (PRWEB UK) 9 November 2012
With a history dating back three centuries, Chatsworth is the most visited stately home in the country and the team at Peak District Online know the reason why.
A brand-new website is launched dedicated to the estate, the house and the gardens, and the team behind it have a peakapedia of knowledge about all things Peak District.
'The grand stately presence nestling amongst woodland and sheltered by the moors above, the Emperor Fountain can be seen for miles around and never fails to add awe to any visit to Chatsworth, ' explains James Dobson, director and photographer for Peak District Online. 'It stands majestically with mists surrounding it at this time year, overlooking the River Derwent and stunning parkland filled with deer wandering free. Who wouldn't want to visit this glorious place? '
James explains that the team have wanted to do a website dedicated to Chatsworth for a long time now and adding it to their impressive list of Lets Go village websites, it's settled in beautifully to its surroundings.
'There's so much to write about and research and early this year we were very privileged to be able to have a behind-the-scenes tour, exploring the house at will and learning lots of its secrets,' says Steve Wake, fellow director and photographer at Peak District Online. 'The new restoration project, which we have talked about in the new website, has transformed the whole front facade of the house and if it's possible, it looks even more gorgeous. We've uncovered a lot of famous people connected with the house and gardens and have new pages dedicated to them, making this a website a little more unique than those before them.'
Steve goes on to explain that the website is still an ongoing project and with so much happening at Chatsworth every month, the website is sure to grow and grow over the coming months.
'The idea of the website is for visitors to the area to discover things they may not have known about Chatsworth and relive the knowledge that they already have,' says James.' Every time I visit Chatsworth I discover something new and it's been a real privilege and pleasure to be able to get behind the scenes and dig out a lot of information we didn't know about. The magic of Chatsworth means something for everyone with not only the estate but the farm shop, the farmyard, the gardens and the restaurants are somewhere to visit, making it a great wet weather holiday day out for all the family. The site has gone live but it is definitely an ongoing project with lots more pages to be added as soon as we get the chance.'
Visit the new website dedicated to the stunning Chatsworth estate at http://www.letsgo-chatsworth.co.uk