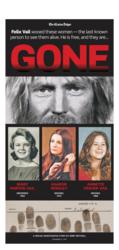 Either he tends to select partners that lead higher risk lives or something else is going on that's more nefarious.
Jackson, MS (PRWEB) November 09, 2012
Mitchell follows the story of Mississippi native Felix Vail, who was the last known person to see three women alive -- his wife, Mary Horton Vail, who drowned Oct. 28, 1962; his girlfriend, Sharon Hensley, who disappeared in 1973; and wife Annette Craver Vail, who disappeared in October 1984.
Initially arrested for questioning in his wife's drowning in Lake Charles, La., Vail has never been prosecuted in any of the cases. The two women that disappeared were last known to be alive in Sulphur, La. Through numerous interviews, research and detailed reporting, Mitchell weaves his story of the three women gone from Vail's life.
What are the odds of a man having a wife drown and a girlfriend and a second wife mysteriously disappear?
"Smaller than the threshold of chance," said James Alan Fox of Northeastern University, one of the nation's leading criminologists. "Either he tends to select partners that lead higher risk lives or something else is going on that's more nefarious."
And where is Vail now? November 11th's story examines what friends and family know about this mysterious man, who hails from the tiny Montpelier community in Clay County, Mississippi. Mitchell traces Vail's journey through the decades as he traveled from Northeast Mississippi to Louisiana, California, North Dakota, Texas, Colorado and even south to Mexico.
Along the way, he built trust with these females – and others who are interviewed in the story – but also displayed a violent behavior toward them.
Vail is not alone. More than twice as many women suffer from violence by an intimate partner during their lifetimes than they do from breast cancer, according to the statistics gathered by the Centers for Disease Control and Prevention.
Of the women slain by men, 94 percent are killed by men they know, according to FBI statistics gathered by the Violence Policy Center. Nearly two-thirds of those slain were wives, common-law wives, ex-wives or girlfriends.
"It's a horrible statistic," said Mike Nance, co-founder of International Association of Cold Case Investigators. "The one whom you love and trust and share a relationship with can kill you."
Key Facts – Reporter, Jerry Mitchell

53-year-old Mitchell has adorned the pages of The Clarion-Ledger since 1986. He has been called "a loose cannon," "a pain in the ass" and a "white traitor."
Much of his work has focused on unsolved civil rights cases from decades earlier that had gone cold. His reporting in those cases helped lead to those cases being reopened and to the convictions of Klansman Byron De La Beckwith for the 1963 assassination of NAACP leader Medgar Evers; Imperial Wizard Sam Bowers, for ordering the fatal firebombing of NAACP leader Vernon Dahmer in 1966; Klansman Bobby Cherry, for the 1963 bombing of a Birmingham church that killed four girls; and KKK leader Edgar Ray Killen, for helping organize the June 21, 1964, killings of James Chaney, Andrew Goodman and Michael Schwerner (popularized by the fictional movie about that case, Mississippi Burning).
For his work, Mitchell has received more than 30 national awards. In 2006 the Pulitzer Board named him a Pulitzer Prize finalist, praising him "for his relentless and masterly stories on the successful prosecution of a man accused of orchestrating the killing of three civil rights workers in 1964."
In 2009, the MacArthur Foundation named Mitchell a MacArthur fellow for his work, making him only the second investigative reporter to ever receive the $500,000 "genius" grant.
In 1996, the film, Ghosts of Mississippi, depicted him and his stories, which had prompted the reopening of the Medgar Evers case. Two years later, he was honored along with three other journalists at the Kennedy Center in Washington. He is currently writing a book for Simon & Schuster titled Race Against Time on his experiences in pursuing these unpunished killings.
Click here to view a trailer about Sunday's story. To interview reporter Jerry Mitchell please call 601.961.7064.