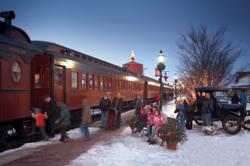 Strasburg, PA (PRWEB) November 09, 2012
Nestled in the heart of Pennsylvania Dutch Country, historic Strasburg Rail Road offers holiday events for kids, families and couples! From meeting Santa, to hearing the holiday classic "Night Before Christmas" or indulging in a Christmas feast – start your Christmas festivities abroad the train.
Night Before Christmas Train:
New this year, the Night Before Christmas Train runs on three Friday evenings during the holiday season, November 30, December 7 and 14. This very unique train recreates the excitement and anticipation of Christmas Eve. A reader dressed in a Victorian nightshirt and cap will read Clement Clarke Moore's classic poem, The Night Before Christmas, as passengers enjoy cookies and milk as the train rolls along. After the train ride, children are also treated to storybook readings of holiday classics aboard our Caboose (stationary) and visitors of all ages can enjoy a ride aboard the Tinsel Trolley, a self-propelled motor car.
In the spirit of the season, kids may come dressed in pajamas and bring along a new pair of pjs to donate to Water Street Ministries' families in need. Just by attending this event, your participation will help men, women and children who are in need in our community. $5.00 from every ticket will support the work of Water Street Ministries. For more information, visit http://www.waterstreetministries.org.
Special thanks to Turkey Hill Dairy and Hershey Farm Restaurant & Inn, in-kind sponsors of the Night Before Christmas Train.
Santa's Paradise Express is pulling in to the Strasburg Rail Road to celebrate the Christmas season on November 23-25, December 1-2, 8-9 and 15-16, 2012. This holiday tradition provides a fun, relaxing atmosphere for families as they travel on a 45-minute ride in an authentic vintage steam train. Santa, his helper and musicians stroll from car-to-car, greeting and entertaining children of all ages. After the train ride, children are treated to storybook readings of holiday classics. Children ages 3 to 11 also receive a gift from Santa and his helper.
The Christmas Feast:
Celebrate the magic of the season by dining on our holiday train. On board the elegant Lee E. Brenner Dining Car, enjoy a delicious Christmas Feast complete with all the trimmings. The menu includes honey-glazed ham, slow cooked turkey, mashed potatoes, green bean casserole, honey glazed carrots, rolls/butter, soft baked gingerbread cookies, apple pie, or white chocolate bread pudding. The Christmas Feast is available November 30, December 7, 14.