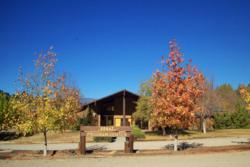 Ventura, California (PRWEB) November 09, 2012
Girl Scouts of California's Central Coast has announced a bequest of over $420,000 from the Pennington Family Trust to establish an endowment for the maintenance of the Arnaz Program Center.
Arnaz, a 36 acre property located in the outskirts of Ventura was purchased by the council in 1974. A wide array of programs and events held at the heavily wooded Arnaz in the past year attracted almost 6,000 participants.
Girl Scout council CEO Sherry Sybesma said, "Every property needs an endowment to support its ongoing maintenance. On behalf of all the girls who have, and who will, in the future have the privilege of spending time at this very special place, the Council expresses deep gratitude to the Martha Jane Pennington family for making Arnaz a part of her living legacy."
The bequest comes just as the Council's Board of Directors is beginning a strategic study of all of the organization's properties for the purpose of assessing the role of each in meeting the needs of girls today and tomorrow. The endowment will help assure that Arnaz continues to be a place where Girl Scouts can make forever memories for generations to come. "Girl Scouting is beginning its second hundred years of creating women leaders," said Heather Vesterfelt, Board Chair. "As a Board, our charge is to prepare this Council to have the resources, including properties, to be able to continue to help every girl find and follow her own unique leadership path.
Community members interested in volunteering to assist the Board of Directors with managing the endowment, or helping with the property study are invited to contact Ms. Vesterfelt at: board@girlscoutsccc.org.
About GSCCC
Girl Scouts of California's Central Coast serves nearly 10,000 girls across six counties and is committed to making the Girl Scout Leadership Experience available to girls in ways that impact their lives both in the moment and into the future. Girls participate in troops, individual projects, council events, day camps and more. A variety of leadership, outdoor skills, and Science, Technology, Engineering and Math (STEM) based programs and events provide girls with opportunities to learn and explore in fun and informative ways. To join or volunteer in Santa Cruz, San Benito, Monterey, San Luis Obispo, Santa Barbara or Ventura county, visit: http://www.girlscoutsccc.org. To donate, visit: http://www.girls2lead.org.