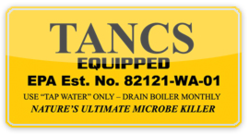 Thermo Accelerated Nano Crystal Sanitation, or TANCS®, carries an EPA establishment number (EPA Est. No. 82121-WA-01).
Lake Forest, IL (PRWEB) November 09, 2012
Americans who keep a clean house using traditional household cleaners could be putting their health at risk. A growing body of scientific evidence has linked adverse health problems like breast cancer to the regular use of basic cleaning products.
According to a 2010 issue of the Journal of Environmental Health, the use of household cleaners including air fresheners doubled the risk of breast cancer in women who use them often because many contain endocrine disrupting chemicals or mammary gland carcinogens.
In line with its mission to encourage Americans to ditch their toxic household cleaning products, a leading nationwide marketer of steam vapor systems announced today that TANCS®-equipped Ladybug steam vapor sanitization systems are scientifically proven to produce better results using ordinary tap water than typical EPA-registered chemical disinfectants.
"Every American has hundreds of chemicals passing through our bodies," says V. K. Dunlop of 1-800-GO-VAPOR.com. "A report from the President's Cancer Panel in 2010 declared that Americans are 'bombarded' with cancer-causing chemicals."
The root of the problem lies in the fact that the 1976 law created to protect Americans from dangerous chemicals is old and broken. In the 35 years since the Toxic Substances Control Act (TSCA) was passed, thousands of new chemicals have been introduced into the products people use everyday yet TSCA has not been revised.
"Hopefully that's about to change," says Dunlop.
Thanks to the efforts of Senator Frank Lautenberg (NJ) and others, Congress is considering legislation that would overhaul TSCA.
In the meantime, credible scientific research is educating Americans now more than ever of what dangerous chemicals lurk in many everyday household products.
"While there is a lot of talk about steam cleaners as a 'green' cleaning alternative to toxic household cleaners, only those made by Ladybug offer TANCS®," says Dunlop. "It's this factory-installed nano crystallization option that sets Ladybug systems apart."
Thermo Accelerated Nano Crystal Sanitation, or TANCS®, carries an EPA establishment number (EPA Est. No. 82121-WA-01). Steam vapor systems armed with Ladybug's proprietary patented TANCS® technology, like the top-selling Ladybug Tekno 2350 steam vapor sanitization system, have been extensively tested and scientifically proven to disinfect surfaces in much less time and with greater safety and effectiveness than traditional typical disinfectants.
According to Chuanwu Xi, Assistant Professor in the Department of Environmental Health at the University of Michigan, "Scientific studies have found that biofilms can be up to 1000 times more resistant to biocide inactivation than are suspended microbes. It is extremely difficult to get rid of biofilms and kill them. The efficacy of the steam vapor system is important because even strong chemical disinfectants such as bleach when allowed 20 minutes of dwell time did not achieve the same degree of kill that the TANCS®-equipped unit accomplished in three seconds."
Located in Lake Forest, Illinois, 1-800-GO-VAPOR.com is moving fast to educate consumers and businesses that finally, there's a feasible, environmentally friendly alternative to chemicals. With customers in every state in the nation and seven foreign countries, the company maintains an A+ rating with the Better Business Bureau and markets Reliable, Vapamore and Ladybug steam vapor systems worldwide. For more information, call 1-800-468-2767. 1-800-GO-VAPOR.com is a proud member of the Safer Chemicals, Healthy Families coalition, a nationwide effort to protect families from toxic chemicals. To stay safe and avoid toxic chemicals, keep abreast of the latest news with 1-800-GO-VAPOR.com's Twitter account, @1800GOVAPOR.