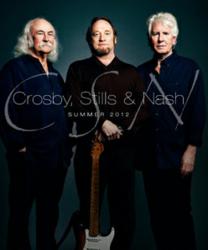 "These two tremendous schools give as much priority to the arts as they do strong academic curricula. I am proud to have my children attend these fine learning institutions and feel privileged to contribute to their success." Stephen Stills
Northridge, CA (PRWEB) November 08, 2012
On October 3, Crosby, Stills & Nash gave a benefit concert to support two area schools, Highland Hall Waldorf school and CHAMPS. The special benefit pre-show reception and concert took place at the Nokia Theatre L.A. Live, and raised over $55,000 for each school.
"I have been very fortunate to have attended public schools, in which the arts were honored and respected. As a musician, I see this as an integral piece of a child's development and ability to thrive" says Stephen Stills. "Sadly, the arts have lost much of their presence in today's world of education. I am representing two schools, Highland Hall Waldorf School and CHAMPS Charter High School, in their fundraising efforts. These two tremendous schools give as much priority to the arts as they do strong academic curricula. I am proud to have my children attend these fine learning institutions and feel privileged to contribute to their success."
Highland Hall will use the proceeds to fund the art and music programs which are an integral part of the Waldorf curriculum in pre-K through high school.
"We are grateful to Crosby, Stills and Nash for the financial support this concert provided Highland Hall, and for Stephen and Kristen Stills' commitment to supporting arts-integrated education," says Highland Hall's Director of Community Development, Bari Borsky.
Highland Hall Waldorf School, located in Northridge, CA and founded in 1955, exemplifies the rich educational traditions of the Waldorf School movement. Its unique approach to learning successfully addresses the changing needs and capacities of children at each stage of development from Pre-K through High School. Fully 98% of its high school graduates move on to renowned colleges and universities; 42% of Waldorf graduates pursue college majors in mathematics or science. Featuring a curriculum of academically challenging lessons infused with arts and hands-on learning, Highland Hall provides students with a solid academic foundation, the ability to think creatively, a sympathetic interest in the world, self-confidence, and an abiding moral purpose.
More than four decades since Crosby Stills and Nash played their first-ever concert as a trio at the legendary Woodstock festival, they continue a creative partnership that is one of the most influential and enduring in music. David Crosby, Stephen Stills, and Graham Nash have each been inducted into the Rock and Roll Hall of Fame two times—once with Crosby, Stills & Nash, and a second time with The Byrds, Buffalo Springfield, and The Hollies, respectively. They have also been inducted into the Songwriter's Hall of Fame, with the honor recognizing both CSN as a group, and each member as individual solo artists; and, they still continue to tour and record as "three together."