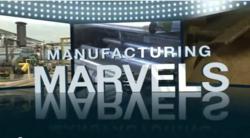 Atlanta, GA (PRWEB) November 13, 2012
The 2-minute spot will air during "The Willis Report" at approximately 9:30pm-9:44 EST in the spot called Manufacturing Marvels®. The productions are shot on location in HD broadcast format and narrated by former news anchor and nationally acclaimed voice talent John Criswell. This educational piece spotlights leading American manufacturers, their products, and unique processes.
Viewers will experience the evolution of Wire-Mesh Products Inc. over their 40-year history, outperforming the competition with their unique designs, spiral technology, custom machinery and 300 years of combined craftsmanship.
The success of the conveyor belt business propelled Wire-Mesh Products Inc. into the architecture and construction industries – offering over a combination of 10,000 weaves and decorative finishes for installation in hotels, stadiums, parking decks, offices, retailers and dealership for use as lighting control, drapery, walls and much more.
Tune in tomorrow night to Fox Business Network 9:30p.m-9:44pm EST to learn more about the fascinating manufacturing process and product offerings from Wire-Mesh Products Inc. and Wire Mesh Products Architecture.
To learn more about Wire Mesh Products, visit their web site at http://www.wire-mesh.com.