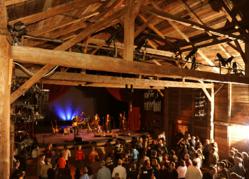 Vienna, Virginia (PRWEB) November 08, 2012
Big Sam's Funky Nation
General Admission Dance
Saturday, December 1 at 7:30 pm
$22
Big Sam's Funky Nation
Sammie "Big Sam" Williams leads his troupe of urban jazz musicians and their swinging, fiery-funk sound back to Wolf Trap. After an impressive performance at the Filene Center's 2012 Louisiana Swamp Romp festival, Big Sam's Funky Nation will make their debut at The Barns at Wolf Trap with a rare general admission dance show. The band's fifth and most recent release is 2012's Funky Donkey, which features a unique cover of the Black Keys' hit song "Lonely Boy" and highlights their ability to take classic and popular tracks and truly make them their own. As Ryan White of The Oregonian put it, "[Big Sam's Funky Nation is] tight enough (and hot enough) to turn coal into a diamond!"
Before founding BSFN, Williams first became known as the lead trombonist in the legendary New Orleans jazz-fusion group the Dirty Dozen Brass Band. As a solo artist, he has performed with the likes of Karl Denson's Tiny Universe, Dave Matthews, Ozomatli, and Widespread Panic. He even shared the stage with U2 and Green Day for the emotional reopening of the Louisiana Super Dome during Monday Night Football in 2006.
Video: Big Sam's Funky Nation – See Me Dance
Schooner Fare
Thursday, December 6 at 8 pm
Friday, December 7 at 8 pm
$25
Schooner Fare
Thirty-plus years since their formation and 27 years after their Wolf Trap debut, folk music mainstays Schooner Fare return to The Barns at Wolf Trap for the first time since 2010. Based out of Portland, Maine, the band has an astonishing 15-album catalogue—their most recent release being the 2010 album Roots and Wings. In addition to praise received for their performances of traditional Irish tunes, Schooner Fare is known for their original works. Their topical, country-style songs and distinctive maritime theme have made fans of fellow folk musicians such as Tom Paxton, The Clancy Brothers, and the Chad Mitchell Trio. Originally a three-piece band, brothers Sam and Chuck Romanoff have continued touring and releasing music as a duo since the passing of founding member Tom Rowe in 2004.
Video: Schooner Fare – We The People
###
Tickets can be purchased by calling 1(877)WOLFTRAP; or online at http://www.wolftrap.org.
For more information, call The Barns at Wolf Trap at (703) 938-2404 or our general information line at (703) 255-1900.