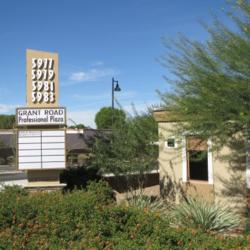 Tucson, Arizona (PRWEB) November 12, 2012
Ideal Physical Therapy Opens New Tucson Location
Tucson, AZ- Ideal Physical Therapy has opened a new East Grant Location in Tucson with Keith Fischer, PT, DPT.
In addition to their other three Tucson locations, Campbell, Oro Valley, and Silverbell, Ideal Physical Therapy opened their newest location in Tucson on November 5, 2012. The East Grant Clinic is located at 5977 E. Grant Road, Suite 101, Tucson, AZ 85712, just West of Wilmot on the North side of the street.
"We are excited about our new private practice location and our newest Physical Therapy Partner, Keith Fischer, PT, DPT. Keith has great specialized training in sports and orthopedics, manual therapy, pilates, dry needling, vestibular and balance and work comp rehab. Also, the new location will be able to accommodate more patients, allowing us additional opportunity to help our community members recover from injury and pain," states Daniel Brauning, Vice President of Clinical Operations.
Specialties of the clinic include Hand Therapy, Custom Hand Splinting, Physical Therapy, Sports Physical Therapy, Spine / McKenzie Certified, ASTYM, and Orthopedic Rehab both Post-Surgical and Non-Surgical.
Ideal Physical Therapy is an outpatient physical rehabilitation company specializing in physical therapy and hand therapy. Since 2005, they maintained the fastest growing company in physical therapy status and have grown to 14 locations throughout Phoenix and Tucson. Each facility is comprised of professional and dedicated physical therapists working towards Ideal's common goal of improving patients' quality of life through the use of their unique knowledge and skills. Ideal prides itself on using the latest paperless business technologies to make all processes easier for patients and physicians.
More information about Ideal Physical Therapy can be found online at http://www.idealphysicaltherapy.com. To schedule an appointment at their new clinic, please contact Ideal Physical Therapy today!
###