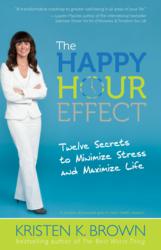 Stress is inevitable but it doesn't have to take you down. During stressful times, you CAN find a way to spin stress into a positive force in your life.
New York, NY (PRWEB) November 09, 2012
The aftermath of Hurricane Sandy and months of relentless election propaganda have Americans reeling with anxiety. Add to that the inevitable stress of the upcoming holiday season and we find ourselves entrenched in a triune of uncontrollable transitions. But "The Happy Hour Effect" book can help with stress-less secrets we can use to live our best lives despite the negative circumstances we may find ourselves in.
Luckily Kristen Brown can help us cope with Sandy, election stress, the holidays and everyday stress with her latest book, "The Happy Hour Effect: 12 Secrets to Minimize Stress and Maximize Life," releasing November 12th from Goodman Beck Publishing. She will be giving away over $1000 in free bonus gifts on November 12th to celebrate her second book's release.
Brown is a bestselling author, speaker, widow mom and certified holistic health counselor who has experienced extreme stress firsthand. "At the age of 31 I lost my healthy, 30-year-old husband, Todd, to a sudden heart attack," Kristen says. "Out of the blue I found myself a widow, a working single mom, and responsible for managing a household all on my own. It was overwhelming to say the least. I had to coach myself on how to manage my stress and through that suffering and pain, the success of my first book and a lot of formal education came this book and my Happy Hour Effect message. My motivation is to help others, the same way I helped myself overcome my biggest challenge in life."
"The Happy Hour Effect" provides readers with easy, fun and powerful solutions to minimize stress and maximize life. From sex, to parenting, to pets, to self-pampering and much, much more, each chapter addresses a specific stress and how to overcome it. Rich with inspiring quotes, tips and secrets, effort levels, expected results, and links to supporting materials online, each chapter truly comes to life for the reader. Her book is a comprehensive guide to help readers live healthier, happier and less stressed lives quickly and easily.
Kristen's Media Reel: http://youtu.be/04mcZu_IvCo
If you would like to interview Kristen Brown or get a review copy of her book, please contact Alix Abbamonte at alix(at)pacepublicrelations(dot)com or 203.613.5642
Release Date: November 12th, 2012
Publisher: Goodman Beck Publishing
ISBN: 978-1-936636-10-5
LCCN: 2012948037
A portion of proceeds will benefit heart health research.
About Kristen K. Brown and Happy Hour Effect LLC:
Kristen K. Brown is The Queen of Stress Relief, certified holistic health counselor, widow mom, award-winning entrepreneur and bestselling author of The Best Worst Thing and The Happy Hour Effect. She is the founder of Happy Hour Effect LLC, a stress management company that helps people to minimize stress and maximize life. She started WidowMommy.com after her healthy, 30-year-old husband died of a heart attack when their daughter was just a baby. She is a professional speaker with a webTV show and has been featured in the media across the country on TV, radio, print and online. She works with individuals, corporations and celebs to discover the path to elevated work/life harmony. Learn more at: http://www.HappyHourEffect.com.