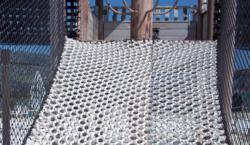 This show covers such a wide variety of possibilities. That's what makes it so interesting.
Kingman, AZ (PRWEB) November 12, 2012
West Coast Netting, the industry's leading manufacturer of netting for sports, amusement parks, commercial and industrial applications, and the military, will be exhibiting at the IAAPA Attractions Expo 2012 on November 13-16 at the Orange County Convention Center in Orlando, Fla.
The IAAPA Attractions Expo, created by the International Association of Amusement Parks and Attractions, is the largest annual gathering of the attractions industry. An estimated 25,000 amusement park professionals are expected at this year's event. The expo's nine miles of trade show floor aisles will feature the newest products for amusement parks and the attractions industry.
"We have exhibited for well over a decade at IAAPA," said Jason Koch, vice president of The Net House, West Coast Netting's sister company which will also be attending. "We enjoy meeting up with many of our past and current customers, and it's a great opportunity to meet new clients and to show them what we are capable of. This show covers such a wide variety of possibilities. That's what makes it so interesting."
West Coast Netting will be exhibiting its thematic and climbing ropes and nets and the variety of colors available at Booth 2933.
"We are really looking for some new customers or some new projects that we can help figure out," Koch said. "We really thrive on new uses for our netting and ropes."
At the expo, Preston Hicks will be representing West Coast Netting, and Greg Campbell and Jason Koch will be representing The Net House.
About West Coast Netting
The netting industry's most experienced manufacturer, West Coast Netting is one of a handful of American netting companies left. A family owned and operated business, West Coast Netting has been designing netting products since 1951.
West Coast Netting's products include sports netting, amusement park netting, raw netting, commercial netting, and military netting. Our amusement park netting includes climb and rope nets, web tunnel nets, and handrail nets.
For more information about West Coast Netting's netting products, stop by our IAAPA Attractions Expo booth, Booth 2933, visit our website or call us at 1.800.854.5741.