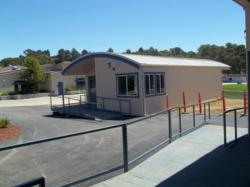 The teachers LOVE them.
San Carlos, CA (PRWEB) November 16, 2012
As a new start-up Green-Tech company, Green Apple Classrooms has just released it's first product. The ECO CAMPUS at Tierra Linda Middle School in San Carlos, CA is the first of what they hope will be a long line of Green and Grid Neutral Portable Classrooms.
Almost 1/3 of the 300,000 classrooms in the state of California are portables. Traditionally they are among the most energy inefficient buildings produced here. With approximately 42% of all the energy used in the United States going to buildings, the amount of energy wasted in portable classrooms is staggering. The Green Apple is designed to be a low cost alternative to the standard portable classroom. Although they do cost somewhat more than a comparable new portable classroom they are far less expensive than the other presently available portables on the market.
They are currently in the process of developing markets outside of CA. With production about to begin in PA Green Apple hopes to not only expand to the East Coast but the South, Midwest and North Pacific.
http://businessonmain.msn.com/videos/newsonmain.aspx#fbid=ItC5zQpltRd