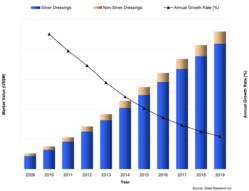 As other major competitors have entered the market to challenge KCI, the business model of NPWT has dramatically shifted.
Vancouver (PRWEB) November 13, 2012
According to a new report by iData Research (http://www.idataresearch.com) the leading global authority in medical device market research, the European wound and tissue management market is valued at €3.46 billion, while the Brazilian wound and tissue market is valued at $632 million USD and growing. "In addition to a growing economy and increasing healthcare expenditures, technological developments such as silver-embedded antimicrobial dressings and negative pressure wound therapy are also driving the Brazilian market," says Dr. Kamran Zamanian, "In Europe, this market is expected to be driven by an aging population and rising rates of diabetes, obesity, and heart disease." These chronic health problems create diabetic ulcers, venous leg ulcers, and major surgeries which drive both the wound management and wound closure segments of the market. In addition, technological developments such as negative pressure wound therapy are set to fuel this growth.
Negative Pressure Wound Therapy & Reimbursements
Research conducted in fifteen European countries reveals that the market for negative pressure wound therapy (NPWT) grew at nearly 5% last year, fueled by increased competition and the release of new disposable pumps. NPWT is relatively new and becoming very popular for wound management. The market has experienced strong growth since being developed by Kinetic Concepts Inc, (KCI) which had a monopoly on the market for a number of years. In Brazil, NPWT is the fastest growing segment in the wound and tissue management market and is expected to continually rise. The development of smaller portable and disposable pumps has allowed negative pressure wound therapy to expand out of the hospital setting and into home treatment. As other major competitors have entered the market to challenge KCI, the business model of NPWT has dramatically shifted. Previously, the vacuum pumps were sold or leased on a rental basis, but competitors are currently switching to a free rental model in order to sell disposables at a higher price. A major driver for the Brazilian NPWT market is the changes in 2011 which officially recognized NPWT therapies for reimbursement. A major increase in the NPWT market is now expected in the coming years as availability of NPWT therapy increases.
Silver Dressings Market Gains Momentum
The market for silver antimicrobial dressings has seen a rapid expansion since being introduced in Brazil. The report states that antimicrobial dressings grew rapidly, expanding 35% as silver-embedded dressings became extremely popular with physicians. The antimicrobial dressing market includes dressings impregnated with silver, polyhexamethylene biguanide (PHMB), activated charcoal, and / or iodine to fight bacteria and infections of open wounds. The rise of antibiotic resistant bacteria, such as methicillin-resistant Staphylococcus aureus (MRSA) is expected to be a major driver for this market in both Brazil and Europe. "Hospitals and clinics are placing an emphasis on the prevention of hospital-acquired infections," explains Dr. Zamanian, "Unit growth is expected to be strong in the near term and slowing over the forecast period as the market matures." In Brazil, there are some concerns about over-use of silver dressings and their effectiveness as a primary dressing for the entire course of wound healing, and growth is expected to decline as best-practice standards for the use of silver antimicrobial dressings evolves.
In Europe, silver dressings have come under scrutiny since the results of the VULCAN study were released in 2009. The authors found no significant difference in 12-week healing rates between silver dressings and control dressings. However, the significance of these results has been debated as the primary purpose of antimicrobial dressings is to prevent infection. Unit sales of silver dressings increased just over 5% last year, despite the products' clinical effectiveness being called into question.
Competitive Landscape
In both Europe and Brazil, Ethicon has been a major competitor in the wound closure market. It holds a majority of the sutures market and the surgical stapling market, largely due to an excellent marketing and sales force. With its acquisition of Omrix in 2008, Ethicon inherited market share in the European thrombin-based hemostat segment. In Brazil, Ethicon competes heavily with Covidien and Baxter in the hemostat and tissue sealants market. A number of smaller competitors have established themselves by differentiating from the major players in the market. Takeda, a research-based global pharmaceutical company, carved a niche market for its single thrombin combination product in the tissue sealants market. Meanwhile, local Brazilian producer Curatec, has increased their share in the moist dressing segment by providing lower cost alternatives to the premium products of other major players such as Smith & Nephew.
iData's global report series for Wound and Tissue Management Markets, provides a comprehensive analyses of the dressings, wound-closure, compression-therapy, hemostats, tissue sealants, negative pressure wound therapy and more for Brazil, Asia-Pacific (Japan, South Korean and Australian), U.S. and Fifteen European Countries including: Austria, Belgium, Finland, France, Germany, Italy, Luxembourg, Netherlands, Norway, Portugal, Spain, Sweden, Switzerland, and U.K.
For notification of reimbursement policy changes in real-time, please inquire about iData's Reimbursement Tracker: contact tracker(at)idataresearch(dot)net
About iData Research
iData Research (idataresearch.net) is an international market research and consulting group focused on providing market intelligence for medical device, dental and pharmaceutical companies. iData conducts research in: wound-management, therapeutic-support-surfaces, cosmetic surgery, endoscopy and more.