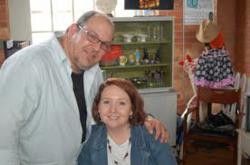 We envision a fun and excting place for people to learn something new.
Wake Forest, N.C. (PRWEB) November 12, 2012
Ever wanted to learn to buy and sell like the pros on eBay? Want to know the basics of Creative Writing? Wish you knew all there was to know about wedding planning, social media or getting your book published? Want to write the perfect resume? Would you prefer to learn guitar basics before committing to a series of lessons?
These are just a few of the opportunities offered by Pick A Class, a new adult education center that offers across-the-spectrum learning at an affordable rate. The classes are taught by members of the community to people in the community.
Based in Wake Forest, Pick A Class was dreamed up by creative entrepreneurs John and Amanda Giustiniani. They have transformed a 4,200-square-foot former workshop and martial arts studio into a multi-classroom space – including a bay for engine repair classes, if needed.
"We want to create something that helps the community and helps the people grow. A place where you can learn something new, make a change in your life in some kind of way," says John.
"We envision a fun and exciting place for people to learn something new," he adds. "By creating a venue where local experts can share their knowledge with a group of interested and enthusiastic students we hope to create opportunities for fun and enrichment in our community. Whether students are looking to build skills that will generate a few extra dollars for their family and hopefully make a difference in their life, or they're simply seeking a little fun, Pick A Class will be a place where you can take a class on just about anything."
They're still formulating the complete schedule of classes – in fact, that's a big part of the draw. All classes will be taught by individuals looking to share their own skill set.
"There is a wealth of specialized knowledge right here in our community, so we're excited about providing a venue where local experts can share their tips and techniques. If you can think it, we can teach it," Amanda adds. "Also in our effort to showcase local talent, our lobby will hold the artwork of local artists and provide a showcase for their work."
One interested instructor wants to teach quilt-making. Another possibility is cooking, scrap booking and extreme couponing. Facebook for business and Marketing Yourself as an Artist have also been suggested.
"Resumes are completely different these days; they're all key worded," says John. "Employers may run them through a computer looking for certain qualities."
John and Amanda live in Rolesville with their five children. Amanda grew up locally in Wake Crossroads, so her desire to help the people in her community is genuine. A New York native, John once worked as a professional photographer. For four years, they have operated a retail business, GC5 Vintage & Gifts located at 430 S. White St., two doors down from the Pick A Class site in the heart of Wake Forest's Renaissance District. They routinely visit estate sales and auctions for their merchandise, which is why they, too will be expert-teaching classes in that field such as navigating an auction.
"I will teach a class on how to liquidate a family's personal property," says Amanda, noting how difficult handling estates can be for family members.
Some of the classes will teach life skills: sewing and how to help children with their homework. Some will be just for fun: ladies' poetry writing, journaling, intro to improv, how to speak southernese.
Pick A Class is located at 502 S.White St. in Wake Forest. All class resistrations are done online at http://www.pickaclass.com.
The non-accredited adult education center classes vary in length, but will average 90 minutes to two hours. Extended classes may be taught. Minimum class size is four persons.
Cost varies per class, but will average around $35. Materials may need to be purchased for some classes; some instructors may choose to provide their own.
For more information and a list of possible classes, visit the website at http://www.pickaclass.com, e-mail John(at)pickaclass(dot)com or call 919-448-4822.
---
John and Amanda Giustiniani are available for interview by calling 919-448-4822, or replying to this e-mail. They can also provide contact information for instructors who may live or work in your area of interest.