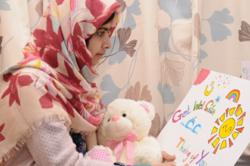 Washington, DC (PRWEB) November 09, 2012
The Malala Fund was launched today to support 15-year-old Malala Yousafzai's campaign for the right to education for children across the world. Vital Voices has established the Fund on behalf of Malala and her family, working together with supporters of the cause including The United Nations Foundation and Girl Up, and several other organizations and individuals.
The Fund supports the education and empowerment of girls in Pakistan and around the world and will provide grants to civil society organizations and individuals focused on education. It will be advised by a committee comprising several education experts and entrepreneurs, as well as Malala - when she is well enough - and her family.
November 10 is a Global Day of Action for Malala, "Malala Day," championed by United Nations Secretary-General Ban Ki-moon, and Gordon Brown, the United Nations Special Envoy for Education Gordon Brown, who the Fund will be working with, calls on the international community to deliver on its promise of education for all. "Over the last month we have seen one million global citizens recognise the importance of the right of education, and the importance of vocally supporting it. I am delighted that the Fund has been set up to help galvanise that support."
The Fund was created after 15-year-old Malala Yousafzai, a teenage activist who has been outspoken in her support for girls' education, was shot near her school in Pakistan's Swat Valley. Currently, the right to education is denied to 61 million children of primary school age, including 32 million girls.
Malala came to public attention in 2009 by writing a blog using the pen-name Gul Makai for BBC Urdu about life under the Taliban, who had taken control of Swat Valley. In her blog she wrote often about her and her family's work towards girls' education in her community.
Ziauddin Yousafzai, Malala's father, runs a group of schools in their homeland of Swat Valley, in Khyber Pakhtunkhwa. Ziauddin has been a great advocate and activist for educational change in Pakistan for many years and speaks with passion and dignity saying:
"Malala and all other female human rights activists must be heard seriously and sincerely. If today, their voice goes unheard then coming generations will go without basic human rights and sublime values which men and women have been striving for centuries to achieve. We can't compromise on the peace and prosperity of our future generations."
In recognition of her courage and advocacy, Malala was honored with the National Peace Prize in Pakistan in 2011 and was nominated for the International Children's Peace Prize in the same year. She has now been nominated for a Nobel Peace Prize and other honors.
Alyse Nelson, president and chief executive officer of Vital Voices, a global non-governmental organization advancing girls' and women's leadership through training and mentoring, said "We stand with Malala and girls around the globe who are daily challenging inequity and moving their communities forward."
A number of events are expected to take place around the world in commemoration of Malala Day.
Donations to the Malala Fund can be made here.
About Vital Voices Global Partnership: Vital Voices Global Partnership is a leading non-governmental organization that identifies, invests in and brings visibility to extraordinary women around the world by unleashing their leadership potential to transform lives and accelerate peace and prosperity in their communities. Founded by U.S. Secretary of State Hillary Clinton in 1997, the organization trains and mentors women leaders as agents of transformative change in economic development, human rights and political participation. The Vital Voices Global Leadership Network includes more than 12,000 leaders representing 144 countries who have trained and mentored 500,000 additional women and girls in their communities. Visit http://www.vitalvoices.org to learn more.
Malala Fund Supporting Advisors and Friends
Several organizations have come together to work with this Fund including:
Mobile Accord/mGive
The Office of the United Nations Special Envoy for Global Education
Twitter
GLAMOUR
The United Nations Foundation and Girl Up
Cadwalader, Wickersham & Taft LLP
Women in the World Foundation and many supportive individuals.