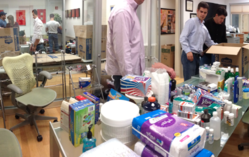 We're like a family at The CollegeBound Network, which is why we quickly reacted to help our employees and those in our community affected by Sandy...
Staten Island, NY (PRWEB) November 09, 2012
Superstorm Sandy may have devastated the community in and around the Staten Island, New York headquarters of educational publishing company The CollegeBound Network, but the fortitude and spirit of resilience here is stronger than ever.
Through its philanthropic initiative, CollegeBound Cares, The CollegeBound Network (CBN), collected thousands of dollars in donations and supplies in a matter of days from CBN employees, friends, and families in its effort to assemble care packages for the company's 15 CollegeBound staff members affected by the storm, as well as those in the surrounding community.
"We're like a family at The CollegeBound Network, which is why we quickly reacted to help our employees and our neighbors affected by Sandy," explains Luciano Rammairone, founder and president. "CollegeBound Cares was designed for this very purpose – to exemplify the spirit of giving that drives our company."
In addition to employee donations of clothing, food, baby and pet supplies, toiletries, blankets, flashlights, batteries, cleaning products, and more, The CollegeBound Network's partners also contributed to CollegeBound Cares' Hurricane Sandy recovery effort, including Paychex (Target gift cards), WB Mason (food drive to benefit the Staten Island community), National Association for College Admission Counseling (coats, clothing, and toiletries), Telenet (delivery trucks for deployment of resources), Udderly Delicious (milk, as needed), and Everson Best (Bed, Bath & Beyond gift cards). Monetary donations were also received from Staten Island Parent Magazine, Kelley Drye & Warren, CUE Brokerage, and Professional Group Plans.
Those wishing to help can email info(at)collegeboundcares(dot)org or message The CollegeBound Network on Facebook.
About The CollegeBound Network
Since 1987, The CollegeBound Network (CBN) has worked with America's leading colleges, universities, and career schools in connecting learners with educational opportunities. More than 3 million surfers utilize CBN's sites, including CollegeBound.net, CollegeSurfing.com, MyEducation.com, SpaBeautySchools.com, and others. CBN specializes in recruitment solutions for 1,000+ educational institutions and 3,500 campuses using websites, content, a dedicated Student Services division, social media, daily blogs, TV/radio campaigns, and more.