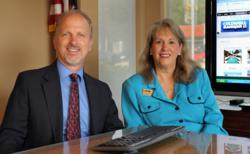 Come Join Coldwell Banker Paradise Associates on Friday, November 16th to participate in a lavish gala and help distressed families at the same time. Admission is FREE
Vero Beach, FL (PRWEB) November 10, 2012
A lavish party is planned for Friday night, November 16th, to raise money for the South Brevard Sharing Center. The agents and staff at Coldwell Banker Paradise again this year are working with the SBSC on arrangements for the gala. Great food, a live band, dancing and an auction will be some of the highlights of the evening.
Coldwell Banker Paradise owners, Steven Schlitt and Linda Schlitt Gonzalez carry on the tradition of giving back to the community that their parents, Ed and Marguerite Schlitt, began at Coldwell Banker Paradise Ed Schlitt Realtors 60 years.
Coldwell Banker Paradise (http://www.FLColdwellBanker.com) was the Platinum Sponsor for The South Brevard Sharing Center Enchanted Christmas 2011. Last year the event raised more than $25,000 to benefit 600 children in South Brevard communities who received holiday gifts, including 130 bikes and protective helmets. These funds assisted with purchasing 542 Christmas family dinners and keeping electricity on for 52 families in South Brevard County including Palm Bay, Satellite Beach, Palm Shores, Suntree, Viera, West Melbourne and Melbourne, FL.
Under the direction of Sales Manager, David Omler, Coldwell Banker Paradise Associates worked closely with local vendors who donated food, drinks and their time to make the event an exciting and fun evening. Movie stars, celebrities and artists donated valuable collectibles and made personal appearances.
For Enchanted Christmas 2012, David Omler has designed an evening which promises to more than double the excitement and fun with tasty cuisine from local restaurateurs, celebrity appearances, classic art auctions, valuable gifts available in silent auctions, and exotic and romantic trips. One of the items to be auctioned is a white Christmas tree decorated entirely in chandelier crystals.
This year's event will occur on Friday, November 16th, 4:00pm to 10:00 pm at the Front Street Civic Center at 2205 South Front Street, Melbourne, FL 32901. David Omler remarked, "Our goal is to raise $50,000 this year to provide more families with rental assistance and utilities in addition to Christmas dinners and children's gifts. We would like to share the great experience of helping others, and we invite individuals and businesses to join us once again in making a difference."
"A construction detour could be a challenge for guests coming this year," worried Omler. "With State Road 192 construction cutting off direct access to Front Street, guests will need to take Waverly Place through downtown Melbourne and then travel east on Melbourne Ave. to Front Street."
For more information go to http://www.flcoldwellbanker.com/content/enchanted-christmas-2012-benefits-children-without-christmas-nov16-2012, or contact David Omler at the Coldwell Banker Paradise office in Melbourne. Telephone: 321-951-3300 Email: David.Omler(at)ColdwellBanker(dot)com
Coldwell Banker Paradise (http://www.FLColdwellBanker.com ) includes nine offices located in Vero Beach, Sebastian, North and South Hutchinson Islands, Fort Pierce, Port St. Lucie, and Melbourne, Florida. Co-owners Steven Schlitt and Linda Schlitt Gonzalez employ approximately 200 sales and rental associates, managers, and staff.