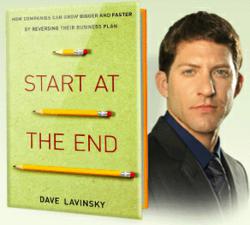 Los Angeles, CA (PRWEB) November 09, 2012
Successful serial entrepreneur and "Start At The End" Author, Dave Lavinsky stressed the fact that connecting with your customers is top priority to help business owners bounce back after a natural disaster. "Leveraging with your current and past customers is a must", says Lavinsky.
Lavinsky urges business owners to nurture the customers who have a track record of buying from them in the past. "Most small business owners market and hope for new customers instead of reaching out to the ones that are right in front of them," Lavinsky says. It's recommended that business owners induce creativity in their efforts and do all that they can to get their attention.
Lavinsky says, "Call them, email them, send them a postcard, do whatever it takes and in return, they will be thankful and your relationship will grow." He then went on to talk about the importance of helping those who may be directly affected. "If your customers have been affected by the natural disaster, create a promotion around it. Host a 'post-Sandy sale' or at the least, reference it," says Lavinsky, "something as simple as 'I know that you have been hard hit by Sandy, and that's why I'm offering you this special deal.'" This shows customers that they're there for them in a time of disparity and are willing to ease business for their customers as well.
To learn more about Dave Lavinsky and how he's helped over 500,000 entrepreneurs and small business owners overcome challenges and grow bigger companies faster with his proven business planning techniques visit http://www.growthink.com.