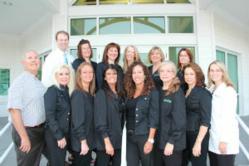 Palm Harbor, FL (PRWEB) November 09, 2012
Dr. Knellinger and Dr. Verkler are pleased to have Renato J. Aves, DDS, working with them at Knellinger Dental Excellence. Dr. Aves is an Oral and Maxillofacial Surgeon who specializes in wisdom tooth extraction. Making his services available on Saturdays gives Palm Harbor patients another option for removing their wisdom teeth.
Many people find that as they approach high school or college their wisdom teeth begin to cause them pain or swelling. These people often visit with a dentist or an oral and maxillofacial surgeon to discuss wisdom tooth extraction. Some people have no such symptoms. The problem is that even without noticeable symptoms, damage or decay may be occurring. Some issues that may present with retained wisdom teeth include the formation of tumors or cysts, breakdown and decay of nearby teeth, and recession and defects of gums and bone. If a wisdom tooth extraction is done, these problems will be prevented.
Dr. Aves is highly trained on wisdom tooth removal. He knows how to open the gum tissue and remove the tooth. Most of the time the teeth can be removed using a local anesthetic to numb the area. Occasionally a general anesthetic may be used. Because each person has different issues with their teeth, it is important to spend time consulting with the doctor so that one will understand what will happen during their particular procedure. Patients in the Palm Harbor area between the ages of 15 and 40 who have not had their wisdom teeth removed should contact Knellinger Dental Excellence. For additional information about wisdom tooth extraction or other dental questions, please visit http://www.palmharbordentistry.com.
Knellinger Dental Excellence is a general practice offering patients personalized dental care for Palm Harbor, Florida. As a father-daughter team and Palm Harbor natives, Dr. Knellinger and Dr. Verkler both attended the University of Florida and University of Louisville School of Dentistry. They are part of one percent of dental professionals providing the most recent FDA cleared laser procedure for gum disease and periodontal treatment. To learn more about Knellinger Dental Excellence and their services visit their website at http://www.palmharbordentistry.com and call (727) 785-3383.