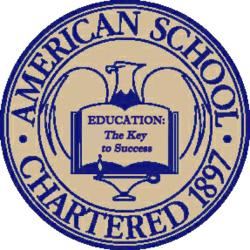 (PRWEB) November 09, 2012
The 115th Annual Meeting of the American School of Correspondence's Trustees and Corporate Members was held October 23 at the Lansing Country Club in Lansing, Illinois. The meeting serves as an opportunity for School leadership to review the activities and accomplishments of the past year and determine officers and goals for the upcoming year.
Trustees selected to serve for the coming year are Roberta Allen, William Hunding, John Kemp, Gary R. Masterton, John McCulley and Mary McKeown.
Officers for the coming year are President Gary R. Masterton, Executive Vice-President and Treasurer Vincent J. Immordino, and Executive Vice-President and Corporate Secretary G. Marie Limback.
Masterton, Immordino and Limback will join with Principal Rene S. Villalva to form the School's Executive Committee. Villalva, who came to the School in May 2012 with more than 30 years of educational experience, was also elected to the Corporation.
The American School, which was founded in Massachusetts in 1897 and has called Chicagoland home for more than a century, is a leader in high school distance education. In its 115-year history, the School has helped more than three million students from across the country and around the world earn accredited high school diplomas.
For more information, call 866-260-7221, visit http://www.americanschool.org, or write to publicrelations(at)americanschool(dot)org.