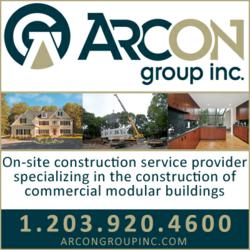 "I couldn't be happier to have Jeff and Kevin join our team," stated Bud Miller, President of Arcon Group, Inc. "I've worked with both for many years and have the utmost confidence that they will greatly contribute to our company's success."
Hummelstown, PA (PRWEB) November 12, 2012
Arcon Group, Inc. is proud to welcome Jeff McCreary and Kevin Rafuse as the newest additions to the Arcon team. McCreary will assume the duties of Director of Business Development, fostering new business opportunities for the company. Rafuse will take on the position of Project Site Manager, supervising the work of site subcontractors and overseeing site construction details. Both additions will give Arcon a boost in the modular manufacturing industry.
McCreary joins Arcon Group with over 30 years' experience within the modular manufacturing industry, most recently as Chief Estimator at DeLuxe Building Systems, Inc. Prior to that, McCreary filled a variety of managerial roles at DeLuxe, including District Sales Manager and Service Manager, and has also held the position of Commercial Sales Manager at Penn Lyon Homes Corp.
Rafuse joins Arcon Group with over 12 years' experience in project management, most recently as Senior Project Manager at DeLuxe Building Systems, Inc. Rafuse also served as Consultant to the Kirkbride Realty Corp. and was Vice President of Construction at Mitsubishi Construction Corp.
"I couldn't be happier to have Jeff and Kevin join our team", stated Bud Miller, President of Arcon Group, Inc. "I've worked with both for many years and have the utmost confidence that they will greatly contribute to our company's success."
Established in 1995, Arcon Group Inc. is an on-site construction services provider in the modular construction industry. Arcon Group services clients in Connecticut, New York, New Jersey, Pennsylvania, Maryland, Delaware, Rhode Island, Virginia, West Virginia, Ohio and Washington DC with cost-effective turn-key building solutions. More information about Arcon Group Inc can be found at http://www.arcongroupinc.com. Arcon has included various projects online with a live feed of the actual construction site where clients and visitors can see the work in progress.
Arcon provides a vast amount of various modular construction services including both the installation and completion of modular units. Arcon's cutting edge building of high quality modular buildings include single family modular homes, various types of commercial modular buildings including Hotels, School Houses, and other large commercial construction projects. Arcon also provides professional project management, from start to finish; both project and construction management is where Arcon excels.