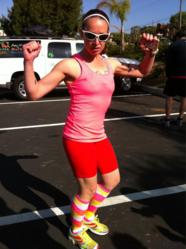 "We wanted a fun and exciting marketing video, but realized that we were nowhere near as creative as our fans and users, so we decided to turn it over to them."
New Haven, CT (PRWEB) November 09, 2012
Aspaeris is pleased to offer a video contest with cash prizes to celebrate the growing community of female athletes using Aspaeris Pivot Shorts (APS) ™. Aspaeris is a new company that provides performance-enhancing, injury-prevention compression sportswear for female athletes. Contestants are encouraged to produce a humorous, three minute video that helps showcase the benefits of wearing Pivot Shorts as well as the fun and competitive attitude of Aspaeris athletes. The first-prize winner will be awarded $500, with a $250 second prize and $125 third prize. Fourth, fifth, and sixth places will receive pairs of Pivot Shorts in the size and colors of their choice.
With the launch of a newly designed web site in September, the Aspaeris team was ready to have a video that helped portray the benefits of the Dual Sensory Compression Bands™ in Pivot Shorts. Given their growing community of fun-loving athletes, the decision for a video contest became obvious. "We wanted a fun and exciting marketing video," explained Marketing Director, Kari Ricigliano, "but realized that we were nowhere near as creative as our fans and users, so we decided to turn it over to them."
The contest is open until December 7, 2012 and the winners will be announced via Aspaeris' Facebook and Twitter accounts one week later on December 17. A panel selected by Aspaeris will score all eligible videos using the following criteria: creativity and uniqueness of video concept; innovative means of delivering the message; audio and visual quality of the video; and content of the message. All individual Pivot Short users who are at least 18 years old and reside in the United States are eligible to participate, but only one video is allowed per contestant. The video must be an original creation, up to 3 minutes in high-resolution format, and must answer one or both of the following questions in a humorous way: What are the benefits of wearing Aspaeris Pivot Shorts™? Why do you wear APS™? Participants should review the contest rules and eligibility requirements by going to the Links and Sponsorship page at aspaerispivotshorts.com or by clicking here. After the signed agreement is emailed to customerservice@samarainnovations.com, participants will then receive a link to upload their videos.
About Aspaeris
Founded by Samara Innovations, LLC in 2010, Aspaeris is a female-centric sportswear company that strives to protect athletes from injury and enhance their performance with advanced compression apparel. The Aspaeris Pivot Short (APS™) was created to help prevent non-impact ACL injuries in high-performance female athletes. APS™ is a unique compression short that has two layers. The outer short is a high performance compression short designed to support muscles. The inner short uses patent-pending technology called Dual Sensory Compression Bands™ to help guide the athlete into proper position while she pivots and runs. APS™ is the only compression short designed specifically for females that improves performance, speeds recovery, and prevents injuries. In a recent survey, 80% of Pivot Short users reported a performance increase and 62% reported significantly faster recovery time when wearing the shorts after long runs. APS™ is being worn by thousands of new users and has been tested by over 100 premier sports medicine professionals and athletic trainers. APS™ was worn by the fastest all-female Ultra team in the Ragnar Relay SoCal 2012 and is a proud sponsor of the Hartford Marathon Foundation. Athletes can also engage Aspaeris via Facebook and Twitter. To learn more about APS™, visit AspaerisPivotShorts.com.
To learn more about the Aspaeris Video Contest, visit http://www.aspaerispivotshorts.com/index.php?main_page=page&id=30
# # #