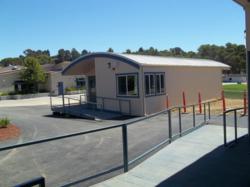 it was amazing how fast these were installed
San Carlos, CA (PRWEB) November 08, 2012
The Green School movement has a major new installation. San Carlos's ECO CAMPUS is the first of what the developers hope to be a long line of Green Apple Classrooms to be constructed throughout the US. Although the installation is incomplete, (awaiting it's photovoltaic, thin film installation) the ECO CAMPUS has been occupied for almost 2 months now.
Portable Classrooms
As an alternative to the standard "Brick and Mortar" classroom, Portables or Relocatables are a popular, inexpensive solution. The Green Apple adds a new standard. By becoming one of the first Relocatable Classroom to generate all it's required electricity through the PV film attached to it's roof. Through Net-Metering the Green Apple, under most conditions, will generate more electricity than it will require on an annual basis.
An Education and Environmental Issue
It is no secret that California's schools are overcrowded. As the state struggles to accommodate nearly 10 million school-aged children, portable classrooms have become increasingly popular. Estimates suggest the state is quickly approaching 100,000 portables in use. Usually considered a temporary solution, portable classrooms have quickly become a permanent problem for California as the units are notorious energy hogs. Green Apple Classrooms address this important issue by creating energy-efficient portable classrooms which are powered by the sun.
A Clean Energy Solution
An advanced HVAC unit, state-of-the-art lighting system, and increased insulation all reduce the unit's energy demands. To meet these lowered demands, we employ a 4kW array of amorphous silicon thin-film photovoltaic panels on the roof of the units. The result is a classroom which generates as much energy as it consumes. For school districts, this means an annual energy savings of approximately $1,000 per classroom they replace, given current electricity rates. For California taxpayers, it means an annual energy savings of $22.3 million if the state eventually replaces a quarter of the current portable fleet with energy-efficient, solar-powered classrooms. And finally, for the planet it means an emissions savings of over 100,000 tons of carbon dioxide per year.
Almost 1/3 of the 300,000 classrooms in the state of California are portables. Traditionally they are among the most energy inefficient buildings produced here. With approximately 42% of all the energy used in the United States going to buildings, the amount of energy wasted in portable classrooms is staggering. The Green Apple is designed to be a low cost alternative to the standard portable classroom. Although they do cost somewhat more than a comparable new portable classroom they are far less expensive than the other presently available portables on the market.
They are currently in the process of developing markets outside of CA. With production about to begin in PA Green Apple hopes to not only expand to the East Coast but the South, Midwest and North Pacific.
http://businessonmain.msn.com/videos/newsonmain.aspx#fbid=ItC5zQpltRd