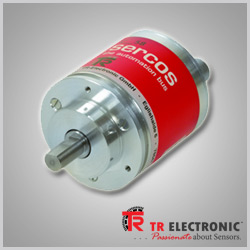 "TR is proud to offer a SERCOS III interface to further support the industry with advanced integration options. This is a high-speed, low-cost option that customers will truly benefit from." says Matthew Scott, Director of Operations for TR Electronic
(PRWEB) November 27, 2012
The CEV58 ES3 multi-turn rotary encoder from TR Electronic is the first industrial encoder to feature the SERCOS III interface. SERCOS III (SErial Realtime COmmunications System ) is the third generation of the SERCOS interface and is a globally standardized open digital interface for communication between motion devices, industrial controls and I/O devices.
The SERCOS III interface is based upon the Ethernet standard and combines its real-time functionality with Ethernet. It has a bump-less physical layer single-fault recovery and allows for the insertion and configuration of devices into the network when cyclic communication is active. SERCOS III is also backwards compatible with previous versions of SERCOS.
The CEV58 ES3 SERCOS III encoder features 27 bit resolution (30 bit optional) and its optical scanning technology provides an impressive 13 arc seconds of precision. Compact M12 connectors and a selection of different shaft and mounting flange configurations make the CEV58 a snap to integrate into your application.
For additional information on TR's motion solutions or to speak with any member of their Customer Care Team, please call 1-800-265-9483, visit TR Electronic on-line at http://www.trelectronic.com or e-mail customercare(at)trelectronic(dot)com.
For a press kit or media contact, please contact:
Lindsay Ocovich
Marketing Specialist
TR Electronic North America
(519) 452-1999
locovich(at)trelectronic(dot)com
Matthew Scott, P.Eng, MBA, CMA
Director of Operations and Strategic Development
TR Electronic North America
(519) 452-1999
mscott(at)trelectronic(dot)com