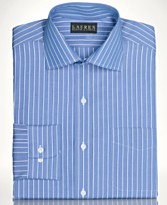 (PRWEB) November 08, 2012
Wholesale dress shirts selling tips have been published by Donny Lowy, the CEO of CloseoutExplosion.com, a New York wholesale business that exports brand name clothing, shoes, and handbags to all types of resellers in Africa, including high end boutiques, family clothing shops, and market vendors. This report focuses on strategies that can be used for selling office shirts to customers on the African continent.
"As a wholesaler who supplies designer name products to Africa, I have gained insights on how to properly market brand name merchandise to consumers, whether they are bankers in Nigeria, or government employees in Kenya," said Donny Lowy, whose Brooklyn clothing warehouse offers a full range of department store overstock and store return pallets.
With customers ranging throughout Africa, including Ghana, South Africa, Botswana, Angola, and Senegal, Closeout Explosion has become familiar with the fashion needs of customers who prefer American brand name labels. In this report, Closeout Explosion reviews important marketing tactics, including:
-Focusing On the Real Reason Customers Buy Dress Shirts
-The Importance of Knowing the Spending Power of Shoppers
-Being Careful Not To Underprice Your Closeout Merchandise
-How to Research the Shirt Styles That Are Popular In Your Local African Market
-Using Fashion Accessories to Attract Shoppers to Your Boutique
-How Your Customers Can Become Your Best Salespeople
-An Easy To Implement Idea for Encouraging Referrals
-The Importance of Targeted Advertising in the Apparel Business
-Why Starting a Wholesale Business in Africa Might Be the Next Logical Step for You
"The market for dress shirts is very large, and continues to grow as the middle and upper class continue to expand in countries such as in Uganda, Zambia, and Zimbabwe. Customers have displayed a preference for brands like Hugo Boss, Polo Ralph Lauren, Kenneth Cole, Calvin Klein, and Van Heusen. As a wholesaler who purchases merchandise at below wholesale prices, I am able to help resellers make money even after factoring the cost of shipping to Africa," added Donny.
Closeout Explosion works with established freight forwarders such Schenker, Express Air Freight, Impex, and Concord, to send shipments to customers. Shipping on a freight collect basis is available for certain countries. Resellers, and their representatives, are welcome to visit the New York warehouse to make their own selection, or they can order online an assortment of different brands, styles, colors, and sizes. In addition to men's clothing, the warehouse also carries social dresses, corporate suits, career shoes, and designer handbag