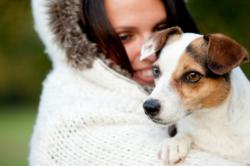 (PRWEB) November 13, 2012
There's no question about it, dogs are a man's best friend. The title has not been conferred on these amazing creatures without a reason. They have earned this title. They bring joy on a daily basis, and have a never ending amount of unconditional love and appreciation.
Every responsible dog owner has the obligation to keep their pet happy and healthy. It is an owners duty to ensure their pets safety, survival, and overall well being.
The Dog Help Network helps preserve and strengthen the special bond that is shared with ones pet. It is a one stop shop for dog owners looking for precise information on everything associated with dog health and well being. This news article is to announce the official launch of the Dog Help Network website at http://www.doghelpnetwork.com.
The site is focused around dog owners from around the world sharing encouraging dog health recovery stories. When a dog and its owner are going through a tough time with a specific disease, it can be inspiring to hear from others who have been through similar experiences.
The Dog Help Network also covers detailed information on a comprehensive list of common diseases that a dog can contract in its lifetime. Everything a dog owner needs to know about symptoms, treatment options, home remedies, causes, prevention, and much more are readily available.
Diseases and Treatment
The Dog Help Network emphasizes on providing the latest information on dog health conditions to owners. The sooner a health problem is identified, the sooner an owner can get the proper treatment for their dog. It's important to gain insights into how a dog feels and reacts at different stages of a particular illness, and learn simple prevention techniques.
It can be confusing when there are multiple treatment options available, all at varied costs. Often times, people will want to try a natural remedy before going with prescribed drugs or treatment. It's important to gather as much information as possible before making a decision. The Dog Help network provides just that, along with real live experiences and feedback on what worked for other dog owners.
Mission
The Dog Help Network was created in order to provide the best online resource for promoting dog health and wellness. It's a place where dog owners can connect and get fast, reliable information on critical health issues. For more information, check out their newly launched site at http://www.doghelpnetwork.com.