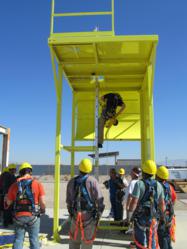 All of our locals are serious about safety and training to meet the needs of the wind energy industry.
Indianapolis (PRWEB) November 13, 2012
Iron Workers Local Union No. 22, Indianapolis, announced the addition of hands-on wind turbine training at its apprenticeship and training facility as part of an ongoing effort to better serve the construction industry's demands for green energy projects in the region.
"We're already working with White Construction on phase one of a 600-turbine project ," said Local 22's Business Manager, Jeff Stinson, who organized the launch of the new training course.
"200 wind turbines are included in phase one, with 200 more in phases two and three. With our training program, we're in a prime position to complete these projects skillfully, on time and under budget," Stinson said.
Local 22, Indianapolis, joins five other Ironworker local unions already offering wind turbine training programs: Local 6, Buffalo, N.Y.; Local 27, Salt Lake City; Local 263, Dallas/Fort Worth; Local 433, Los Angeles; and Local 444, Joliet, Ill.
Iron Worker wind turbine training courses date from 2010, when the Department of Labor (DOL) awarded the Ironworker Management Progressive Action Cooperative Trust (IMPACT) and the Iron Workers Apprenticeship and Training Department a grant under the green energy training partnership. IMPACT used the grant to set up the first five training programs.
According to Lee Worley, Executive Director of Apprenticeship and Training, locals are stepping up to fill the wind turbine erection needs of communities and construction companies. "The DOL grant ran through January 2012, but locals—like Local 22—have indicated that they are more than willing to make the investment in setting up their own training." At $45,000, the price tag for all the required training equipment isn't cheap, Worley explained.
Locals who wish to launch their own training can contact the Apprenticeship and Training Department and request blueprints and an equipment list. Based on these instructions, locals must fabricate their own wind turbine mockups and purchase their own equipment. "All of our locals are serious about safety and training to meet the needs of the wind energy industry," said Iron Workers General President Walter Wise.
As a result of expanded wind turbine training erection and safety training, Ironworkers are filling the needs of the expanding green energy sector. "With the addition of the new wind turbine training capability provided by Local 22, the Iron Workers will be able to meet the demands for safe, qualified wind turbine erectors throughout our country," Wise said.
With more than 40,000 active wind turbines across the country and new construction taking place in 29 states, demand for wind turbine erectors is booming. Ironworkers are trained to work efficiently and safely and are ready to build.
About the Iron Workers Union: The International Association of Bridge, Structural, Ornamental and Reinforcing Iron Workers (IABSO&RIW) was founded in 1896 in Pittsburgh, Penn. They now represent more than 125,000 Ironworkers throughout the United States and Canada. The IABSO&RIW's mission is to improve the working conditions of its members while promoting constructive relationships with their employers to increase work opportunities.
About IMPACT: The Ironworker Management Progressive Action Cooperative Trust (IMPACT) is an independent labor-management partnership designed to create work opportunities in the North American ironworking industry. Our primary mission is to provide a forum for Ironworkers and signatory contractors to discuss effective strategies to expand job opportunities through innovative labor-management cooperative programs. IMPACT provides expertise in training, construction certifications, marketing, construction project tracking and bidding, insurance and Davis-Bacon compliance efforts. IMPACT also administers a world-class substance abuse program to ensure that Ironworkers are safe, drug-free and ready to work.