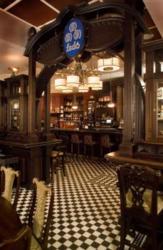 We have found a way to offer a high quality event on limited funds.
Annapolis, MD (PRWEB) November 12, 2012
Fado Irish Pub, located just west of downtown Annapolis, heads into the Holidays with an answer for companies determined to reward their staff during the challenging economic times. Fado remains a quality venue for large firms and companies, who need to cut back on budgets without sacrificing quality in their Holiday events. Fado is famous for its authentic Dublin, Ireland decor, top notch menu offerings, and attentive staff.
http://www.fadoirishpub.com/annapolis/sharable-appetizers
Event Manager, Molly Higgins, shares, "We've heard from many companies who have had to reduce the size and/or scope of their usual holiday company party because they don't want to seem excessive when they are pulling back in other areas of their business. Therefore, we have found a way to offer a high quality event on limited funds."
Fado has the ability to host a wide range of events including an intimate table for 10 for a Holiday luncheon or the entire Pub buy-out. It offers a fun and warm atmosphere well suited for a range of occasions.
The event staff at Fado works one on one with customers to create a customized party plan. The event staff provides recommendations but ultimately the customer picks the menu, entertainment, and space. A planning option that sets Fado apart from the rest is the freedom of choice when it comes to their party menu and our new menu offers great variety and a contemporary twist on traditional Irish fare.
http://www.fadoirishpub.com/annapolis/private-event-venue-in-annapolis
About Fado Irish Pub
Fado Irish Pub is distinguished by genuine Irish hospitality, quality and craic (Gaelic for good times). Fado is located just west of downtown Annapolis on West Street in Park Place.. Our decor and friendly staff evoke images of the great old pubs of Ireland whereas our style of operating - our music, food, beverages - connects more so with the contemporary pubs and bars of modern Ireland. Fadó Annapolis was designed and manufactured completely in Ireland and then brought to Annapolis for installation. For more information please visit http://www.fadoirishpub.com
Find us on Open Table: http://www.opentable.com/fado-irish-pub-and-restaurant-annapolis
Contact: Events manager, Molly Higgins 410-626-0069, mhiggins(at)fadoirishpub(dot)com
http://www.twitter.com/fado_mollyh