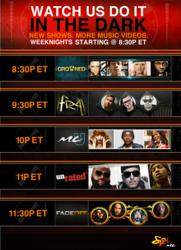 (PRWEB) November 12, 2012
Music Choice's SWRV TV —the interactive music video television network that puts the viewers in control – today announced the launch of five new interactive TV shows as part of its fall programming slate. The new shows will be part of a targeted week night programming block that starts at 8:30pm ET. Each of these shows hyper-targets fans with popular videos from expanded genres including Rock, Alternative, EDM, Hip-Hop and Rap.
"Consumer reaction to SWRV has been phenomenal with over 60 million viewer interactions since we launched," stated Damon Williams, VP Programming & Content Development at Music Choice. "As a result, we decided to expand our programming slate to include genre based shows that we expect to resonate with our core audience of 18-24 year olds and help us gain new fans as well."
SWRV's new week night slate include the following five programs:
Crowned @8:30pm (Hip-Hop/R&B Show)
Royalty. Power. Hip-Hop. Your vote decides who wears the crown. Featured artists videos include: Drake, Rihanna, 2 Chainz
Freq @9:30pm (Dance Show)
Find your freq[uency] on the dance floor. And forget requests: It's your say what spins next. Featured artists videos include: Afrojack, Benny Benassi, Calvin Harris
MCU @10pm (indie/alternative/EDM/Hip Hop)
Ditch the boring syllabus and get to know your next favorite artists. Featured artists videos include: The Killers, Gotye, Frank Ocean
Unrated @11pm (Rap Show)
The show where you keep hip-hop's elite in check. Your rating determines their fate. Featured artists videos include: Meek Mill, French Montana, A$AP Rocky
Face Off @11:30pm (Rock Edition)
Two bands battle it out. You pick whose video rocks the screen. Featured artists videos include: Florence + The Machine, Korn, Linkin Park
To coincide with the launch, SWRV will launch a national marketing campaign that will appear online and on-air promoting the five new shows. The spot will be featured on several national TV networks, radio and print publications targeting P18-24. On the ground, brand ambassadors will swarm select SWRV markets throughout the US promoting SWRV's new show lineup at targeted concerts, music festivals, and events.
The SWRV® network launched February 2010 by Music Choice®, the multi-platform video and music network and is the first and only interactive music video network. SWRV is currently available throughout the US via several providers including Verizon FiOS, Cox Communications and AT& T U-verse. From creating and starring in video dedications, to voting for the next video to play, and even taking over their own show, viewers can interact with and control SWRV content through their mobile devices and online at http://www.swrv.tv. SWRV features mainstream pop and hit-driven music videos along with some of the best dance, college and rock videos.
For more information on SWRV log on to http://www.swrv.tv or to become part of the SWRV community join us on Twitter: @SWRV | Facebook: http://www.facebook.com/swrv.tv |Tumblr: swrvtv.tumblr.com
SWRV....Don't Just Watch!