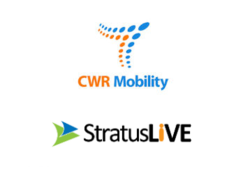 Our partnership with StratusLIVE will enable them to offer their nonprofit clients with an outstanding opportunity to achieve their goals by capitalizing on mobile CRM solutions.
REDMOND, Washington and VIRGINIA BEACH, Virginia (PRWEB) November 13, 2012
CWR Mobility, the leading provider of mobility solutions for Microsoft Dynamics® CRM, and StratusLIVE, LLC, developers of StratusLIVE for Fundraisers, announced today that they have formed a new partnership in which StratusLIVE will offer StratusLIVE for Fundraisers as a comprehensive mobile fundraising and donor management solution to its customers based on award winning software from CWR Mobility. As part of this new business relationship, StratusLIVE has joined the CWR Mobility Partner Program as a Registered Partner.
This partnership makes StratusLIVE for Fundraisers the first enterprise class, full line of business fundraising suite for nonprofit organizations built completely in Microsoft Dynamics CRM 2011 to be fully mobile. StratusLIVE for Fundraisers is available now for nonprofit clients. Any employee on an iPad® or Android™ tablet, or iPhone®, Android™, BlackBerry®, or Windows® Phone smartphone has access to their organization's data.
"Nonprofit organizations have numerous opportunities to interact with their constituents in a variety of settings. We believe these opportunities are enhanced by mobile devices such as smartphones and tablets," said Jim Funari, CEO of StratusLIVE. "Whether you are a major gift officer reviewing a donor's profile information on a smartphone prior to a critical in-person 'ask' or an employee registering constituents on site for an event on a tablet, every interaction with the organization should be a rich and fully integrated experience for the constituent. With CWR Mobility, we can deliver the same comprehensive functionality of our software on mobile devices that we do on a PC. "
CWR Mobility develops and markets CWR Mobile CRM, the best-in-class mobility solution for Microsoft Dynamics CRM that enables field sales, service and marketing professionals to be more effective and efficient. In September, CWR Mobility launched CWR Mobile CRM 2011 for Android tablets. This latest release supports users' expanding choices in tablet devices by adding native application support for Android tablets. CWR Mobile CRM now provides native application support for iPad and Android tablets and iPhone, Android, Blackberry and Windows Phone smartphones.
"Both private and public sector organizations are looking for mobile solutions to help their teams be more effective and efficient," said Mark H. Corley, CEO of CWR Mobility, Global 2011 and 2010 Microsoft Partner of the Year for Mobility Business-to-Business Applications. "Our partnership with StratusLIVE will enable them to offer their nonprofit clients with an outstanding opportunity to achieve these goals by capitalizing on mobile CRM solutions."
About CWR Mobility
Our mission at CWR Mobility is to help organizations gain The Power of Close® -- the power to get closer to customers and stay there, increase customer satisfaction and loyalty while reducing the costs of customer interaction, and create a more agile and effective customer-facing organization. By offering the most advanced, multi-platform mobile CRM solutions -- based on the Microsoft Dynamics CRM platform – CWR Mobility continues to set the mobility standard for the entire CRM industry. CWR Mobility and its partners uniquely empower customers to drive business results through rapidly deployed mobile applications.
About the CWR Mobility Partner Program
The Mobile CRM market is expanding rapidly, creating substantial opportunity for system integrators, value added resellers and consultants who help their customers gain The Power of Close. The CWR Mobility Partner Program provides these companies with the critical elements essential to successfully enter the mobile CRM market and deliver market-leading solutions to their customers based on best-in-class software products from CWR Mobility. For more information, or to inquire about partnership opportunities, visit http://www.cwrmobility.com/partners/become-a-mobile-crm-partner.
About StratusLIVE, LLC
StratusLIVE, LLC is a leader in on-demand and on-premise donor management and fundraising software solutions for the nonprofit industry. StratusLIVE is built on the latest Microsoft Dynamics CRM 2011 platform and delivered through familiar Microsoft Outlook, mobile devices and web browser interfaces. The product provides ease of use, familiarity and flexibility - all backed by decades of collective nonprofit and software development experience. Fundraising-based nonprofits can now leverage their existing IT investments with the latest in technical innovation from Microsoft. The result is a cost-effective, familiar and easy to use donor management solution, which ensures a low-risk investment for any nonprofit. For more information please visit: http://www.stratuslive.com
The Power of Close is a registered trademark of CWR Mobility BV. Microsoft, Windows and Microsoft Dynamics are either registered trademarks or trademarks of Microsoft Corporation in the United States and/or other countries. iPhone and iPad are trademarks of Apple Inc., registered in the U.S. and other countries. The Trademark BlackBerry is owned by Research In Motion Limited and is registered in the United States and may be pending or registered in other countries. CWR Mobility BV is not endorsed, sponsored, affiliated with or otherwise authorized by Research In Motion Limited. Android is a trademark of Google Inc. Use of this trademark is subject to Google Permissions. StratusLIVE is a registered trademark of Stratuslive, LLC. Other trademarks mentioned in this press release may be held by their respective owners and/or their suppliers.