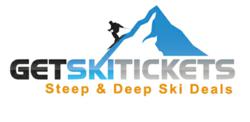 Denver, Colorado (PRWEB) November 08, 2012
GetSkiTickets.com is expanding their market share in one of the most skied destinations in North America by adding Durango Mountain Resort in Colorado. Durango Mountain Resort was originally opened as Purgatory Resort in 1965. The legend of how Purgatory Mountain received its original name came by Spanish explorers in 1776, when traveling down the Animas River. The explorers lost some of their group, and their bodies were never recovered. The remaining explorers believed that the souls of the lost men would be trapped in purgatory. This legend has been far superseded by Durango Mountain's 2,029 foot vertical drop, 1,360 skiable acres and an annual snowfall of 260 inches. "Durango Mountain's true legend is unbeatable snow and a great place for all types of skiers. We are excited to have Durango Mountain as a GetSkiTickets.com partner. By providing free advertising and market value, we know we are going to do big things with Durango Mountain Resort," says Co-Owner and Sales Director, Erika Troyer.
Denver, Colorado is the base of GetSkitickets.com's operations and will now sell discount lift tickets to Durango. It is a family owned and operated company, started in 2008. Dedicated to providing the best deal around for skiers and boarders, GetSkiTickets.com has a user friendly site to compare prices for skiing across North America. With partners in California, Nevada, Utah, Colorado, Wyoming, New Mexico, Idaho, Maine, New York, British Columbia and Alberta, they are on a fast track to dominating the discount lift ticket market.