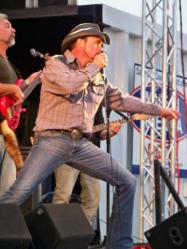 Elma, New York (PRWEB) November 09, 2012
Nashville recording star Ricky Lee, who has become a favorite of audiences throughout Western New York, has two more local engagements here during the month of November.
Sponsored by the Made in America Store in Elma, NY, Ricky is scheduled to open for country Super-Stars Lonestar in Warsaw, NY on Wednesday, November 14th…part of that band's 20th Anniversary Reunion Tour. This "Harvest Hoedown" concert event begins at 7pm on the Main Street Stage.
The following day, Thursday, November 15th, Ricky will perform the National Anthem during the Bills-Dolphins game at Ralph Wilson Stadium.
Grab Ricky Lee's full line of 100% US made CDs by clicking here!
Thanks in part to his support from the Made in America Store and the National VFW, Ricky Lee's numerous appearances in the Buffalo area have helped him develop a strong local following with his special collection of patriotic songs…many of which he wrote.
For more information about Ricky Lee and his "All American" partnership with the Made in America Store, visit http://www.RickyLeeMusic.com or http://www.MadeInAmericaStore.com.