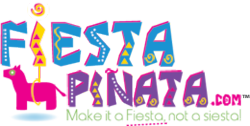 Las Vegas, Nevada (PRWEB) November 09, 2012
America can now breathe a sigh of relief now that the 2012 Presidential Election is over. This past Tuesday, November, 6th America voted and successfully re-elected President Barack Obama. After a hard fought campaign, both candidates are likely reflecting on their wins and their losses.
Piñata Maker, Fiesta Piñata may have known the outcome weeks before election Tuesday through the sales of their presidential candidate piñatas. "We had an overwhelming amount of Mitt Romney and Paul Ryan piñatas sold as well as many republican elephant piñatas" says Fiesta Piñata owner, Ramon vanMeer.
Fiesta Piñata saw the sales of their political piñatas skyrocket three weeks before the election. Political piñata customers included everyone from the stay at home mom, corporations and campaign officials looking to celebrate a possible victory for their candidate. "We had so many calls coming asking if we could make the piñatas. In fact we are still getting request" vanMeer says.
Fiesta Piñata's specialty is making custom piñatas, so the request to create the candidates wasn't a problem. The company says more than half of their monthly sales are from customers purchasing custom piñatas. "It's easy, you just choose the size and upload an image of how you want the piñata to look and we do the rest" says vanMeer. The company said in addition to filling political orders, October was a very busy month for Halloween orders as well.
Although some may view the action of taking a bat to a piñata with an individual person's likeness somewhat violent, it lacks any real intent on hatred and more so on fun. "It was a very long and rough campaign. It's only natural to let off some steam after enduring a year of negative campaign ads, political emails and phones calls" says vanMeer.
Fiesta Piñata specializes in the manufacturing of customized piñatas and produces thousands of piñatas a year. Every piñata is made to order and they ship all over the U.S and Canada. For more information about Fiesta Piñata, visit their site at http://www.fiestapinata.com