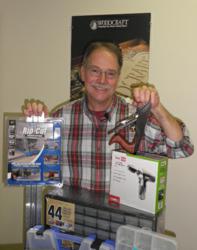 The best gift you can give is the one you've handmade out of wood.
Parkersburg, W.Va. (PRWEB) November 15, 2012
Scott Phillips has gone shopping at Woodcraft, and the co-host of THE AMERICAN WOODSHOP on PBS found lots of Christmas gift ideas for the woodworkers and DIYers. A few of the products in the "Phillips Collection" are mentioned here. To learn more about all of Scott's choices, watch his video online at http://www.youtube.com/watch?v=Yr98g277Aek.
$61-$150
•PULY 12V MAX POWER Right Angle Drill & Multi-Tool Combo – Users can quickly switch heads on this versatile tool which allows both heads to be used in four positions at 90° increments. The Right Angle Drill Head offers access to the tightest spots; the Multi-Tool Head easily cuts, sands and grinds when used with popular multi-tool accessories.
•5-Piece Kakuri Japanese Handsaw Set – This set contains four high carbon Japanese steel blades to tackle almost any woodworking task in the shop or home, plus a red oak handle and canvas case.
•WoodRiver V3 #4 Bench Hand Plane – The #4 plane is ideal for smoothing and other light jobs. At 5 lbs. it is light enough for longer periods of use but has the heft to slice through difficult grain without stopping.
•Flexcut 5-Piece Carving Set – This set includes two gouges, a veiner and a parting tool, plus a handle, wood block with a preprinted design for carving, and a storage pouch.
•Jorgensen Casework Claw – Designed for work with frameless kitchen/bath cabinets, closet/garage storage systems, and much more, the Casework Claw aligns in two directions at 90º, with openings in the clamp for access to the workpiece.
$31-$60
•Kreg Jig HD Starter Kit – This version of the Kreg Jig pocket-hole system allows the user to drill holes that are 25 percent larger for the massive Kreg HD (heavy-duty) screws and will work on 1-1/2" and thicker material for building outdoor furniture, decks, and more.
•WoodRiver 20-Piece Brad-Point and Forstner Bit Set – Designed specifically for woodworking, this high carbon steel bit set includes fast cutting brad-point drills and smooth cutting forstner bits in sizes ranging from 1/8" to 1".
•Micro Jig GRR-Ripper Basic Model GR-100 – This innovative GRR-Ripper push system allows the user to precisely control material as it is cut on the table saw, keeping hands safe and ensuring an accurate cut every time. (GR-200 costs slightly more but includes two additional accessories.)
•Portamate 6-Shelf Wood Rack – Wood, pipe, and other long items can be stored on this six-shelf multipurpose racking system suitable for workshops and garages.
•PULY 12V Li-Ion Two-Speed Screwdriver – High torque, two speed settings, and an integrated LED make this lightweight screwdriver powerful and user-friendly for fast, efficient drilling and driving.
$10-$30
•Akro-Mils 44-Drawer Stackable Storage Center – Stackable and wall-mountable, this 20" x 15-5/8" x 6-3/8" cabinet comes with 12 4" drawers and 32 2" drawers, with a limited number of built-in dividers (additional dividers available from the manufacturer). Other Akro-Mils products featured include: a 16-drawer Stackable Storage Center, 15" Dual Lid Portable Organizer, and 15" Storage Case.
•Subscription to WOODCRAFT MAGAZINE – Give the year-round gift – six issues packed with project, technique and product stories sure to become a go-to reference.
•Kreg Multi-Mark Marking Gauge – Lay out mitered corners, set 3/16" reveals, transfer measurements, and many more tasks with this multipurpose tool.
•WoodRiver 7-Piece Hex Shank Standard Length Fractional Brad-Point Bit Set – All the bit sizes needed for #6 through #12 screw pilot holes and clearance holes, plus a quick-change adaptor, are included in one handy set.
•O'Keeffe's Working Hands – A revolutionary formulation of moisturizing ingredients assists in healing dry, damaged skin.
Woodcraft Gift Card – Give the gift of choices – a Woodcraft Gift Card, available as a regular card with a variety of holders from which to choose (can be sent anywhere) or in email format. Gift Card boxes are also available.
Another gift idea from Scott Phillips: "The best gift you can give is the one you've handmade out of wood."
For more information about Woodcraft, please contact the store nearest you, visit http://www.woodcraft.com or call (800) 535-4482. To learn about Woodcraft franchise opportunities, call (800) 344-3348, visit http://www.woodcraftfranchise.com or email woodcraftfranchise(at)woodcraft(dot)com.