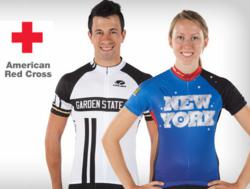 cyclists don't pass by other cyclists. They stop and help.
(PRWEB) November 12, 2012
When a cyclist sees another rider down, they lend a hand to help get them back on the road or trail. Whether it's a tool or encouragement, cyclists don't pass by other cyclists. They stop and help.
Last week Superstorm Sandy passed over the Caribbean islands and made landfall on the East Coast. The power and impact of this "historic" storm has taken the lives of 100+ people, destroyed thousands of homes, and overturned the lives of millions. Our fellow Americans and neighbors are down. There is no question that help is needed.
Beginning now through November 19th, when you order any Flag Jersey, Voler will give 15% of the purchase price to the American Red Cross for disaster relief to help those affected by Superstorm Sandy. Simply visit http://www.voler.com/sandy/ and select the jersey of your choice and use source code "REDCROSS" during checkout. From direct relief for the victims to organizing volunteers on the ground, your purchase will help make a difference in the recovery and support of those in need.
For more information on the American Red Cross Disaster Relief Fund, click visit http://www.redcross.org/what-we-do/disaster-relief.
All of Voler's cycling jerseys are made in California, composed nearly entirely of USA-produced raw materials. Voler's products not only reduces the impact on the environment by requiring less shipping and thus emissions, it helps support American jobs and our economy.