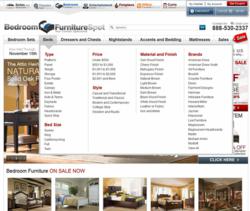 We are committed to giving our customers the best possible shopping experience with an increasing number of choices
Golden, CO (PRWEB) November 09, 2012
BedroomFurnitureSpot.com, the leading online retailer of home bedroom furniture, is excited to announce a major upgrade. The site has been completely redesigned to improve the shopping experience and help shoppers find the exact pieces that they are looking for. This upgrade is in response to an increasing catalog of high quality bedroom furniture products by many of the industry's top manufacturers.
The new menu interface is intuitive to better allow customers to search for products by manufacturer, color, style, price or features. Customers can quickly drill down to the products that match their criteria and choose from a great selection. The Shopping Cart was also upgraded to provide convenient one-page checkout. Customers no longer need to go through several pages to enjoy a safe and secure shopping experience. Other great features include better layouts of vital product information, easy access to Sales and Customer Service Professionals and quick access to Bedroom Furniture Spot's sister sites.
"As our selection of home bedroom furniture expands, we found that we needed to update the website to keep up with the many choices available to shoppers," said Peter Goldstein, Vice President of Sales for Bedroom Furniture Spot. Mr. Goldstein also had this to say, "Whether people are looking for products like contemporary bedroom sets or four poster beds, they will be able to quickly find what they need to furnish their dream bedrooms".
Product pages have been given new features to help customers choose their ideal furniture. Images have a handy zoom window that allows shoppers to see products up close. This helps discerning customers look closely at each piece like they could in a brick-and-mortar store. The new layout also places all of the vital information on one page so that customers can stay informed without clicking through a bunch of Tabs. Finally, the pricing configurators have been moved above the fold to the top of the page. This allows for convenient one-page shopping without searching for the pricing configurator.
Sometimes, customers have questions that cannot be answered with text or images. In response, BedroomFurnitureSpot.com incorporated convenient features like streamlined chat windows to connect shoppers to Sales or Customer service professionals for instant help. Friendly and knowledgeable people can be reached by phone, email or chat windows. Another great feature is one-click access to Bedroom Furniture Spot's sister sites like EntertainmentCenterSpot.com and SofasAndSectionals.com. This feature helps customers easily find furniture for every room in their homes.
"Our customers are sure to love all of the new features as well as the sleek new design that makes online furniture shopping so much easier. We are committed to giving our customers the best possible shopping experience with an increasing number of choices", added Mr. Goldstein.
About BedroomFurnitureSpot.com – BedroomFurnitureSpot.com is one of the leading online retailers of home bedroom furnishings, and a subsidiary of InteriorMark, LLC. InteriorMark's family of e-commerce sites are dedicated to providing quality home furnishings that include products for the bedroom, home office, dining room and home theater spaces. InteriorMark strives to provide quality furniture products from leading manufacturers at prices up to 65% off retail. InteriorMark is a member of the National Home Furnishing Association and an A-rated member of the Better Business Bureau.