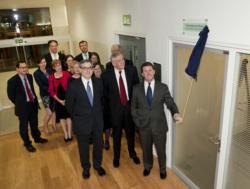 It was a way to give back to the school and express my love and appreciation for both my school and my family
Shreveport, LA (PRWEB) November 14, 2012
A seminar room at the Oxford University Saïd Business School now bears the names of two Shreveport natives.
Stewart Hamel, managing principal of Hamel Interests and Private Equity LLC, unveiled the room last week. The Hamel Seminar Room honors his parents, Milton and Katherine Hamel. Hamel sat on the Oxford University Saïd Business School Board in 2010 and 2011 and is an alumni of the Business School.
Hamel flew his father to England for the unveiling.
"He was very touched. It was sentimental," Hamel said. "I very much appreciate my mom and dad. This was a way I could show I love and care for them."
Oxford University, which is expanding its prestigious business school, accepted the name after Hamel donated $150,000 to help fund the expansion.
"It was a way to give back to the school and express my love and appreciation for both my school and my family," Hamel said.