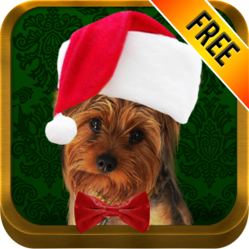 Belfast, ME (PRWEB) November 09, 2012
Dressing your pet for the holidays just got a whole lot easier. Mobile App company Cat Game Apps, LLC (creator of Pet Royals) has just released a new app called Pet Holidays.
"We were having a devil of a time getting our gold fish properly dressed for special occasions" reports Tim Wilson, Cat Game Apps Co-owner. "Now, it is so much easier!"
With Pet Holidays, users can add holiday accessories like antlers to their dog or a Santa hat on their goldfish. The app also makes it easy to share the photo on Facebook and other sharing sites.
Pet Holidays is easy to use. The first step is to take a photo of a pet using a mobile device like a smartphone or tablet. App users can then choose from over 100 accessories to add to their photo and the position, size and orientation of the accessories can be adjusted using their fingers. Users can also add text bubbles or captions and there's a drawing tool to draw on some eyeliner, add hearts and stars or some other accent.
When the image is complete, owners have several options like saving it to their camera roll, emailing it to a friend, sharing it on Facebook, Instagram, Twitter, or Flickr or posting it as a meme to Pinterest. Users can also upload the photo to Shutterfly to make personalized gifts, cards and calendars.
This app is for holidays beyond the Christmas season. There are accessories for Valentine's Day, Saint Patrick's Day, Easter, the 4th of July and Thanksgiving.
The basic Pet Holidays app is free and available from iTunes, Amazon and Google Play. For more information you are invited to http://petholidaysapp.com/