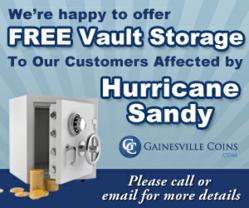 Free Gold and Silver Storage for Sandy Affected Areas
Lutz, FL (PRWEB) November 09, 2012
Gainesville Coins is offering free vault storage for any new or recent order by a New Jersey or New York resident due to the widespread impact of Hurricane Sandy. Many residents in the worst hit areas remain affected by power outages and flooding. Basic services, including electricity, gasoline supplies, and mail service remain spotty and uncertain. Until conditions return to normal, customers from New York or New Jersey can elect to store any new or recent order with Gainesville Coins Storage for free.
Gainesville Coins believes that the widespread disruptions caused by Hurricane Sandy will normalize in the weeks and months ahead. Until then, customers from hurricane affected areas can feel secure in their purchase of gold and silver by storing their orders with Gainesville Coins Storage. When conditions return to normal, orders placed into storage will be mailed out on request.
If you live in a storm affected area and would like more information, call (813) 482-9300.
Gainesville Coin Storage is a fully segregated storage facility.