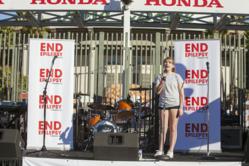 Pasadena, CA (PRWEB) November 09, 2012
Over 2,200 spirited people showed up at Pasadena's Rose Bowl Stadium on Sunday, October 28th for the 2012 Walk to End Epilepsy 5K and 1-Mile Stroll. Hosted by the Epilepsy Foundation of Greater Los Angeles, the successful community event raised over $275,000 – a record high amount.
During the Walk, UCLA's beloved freshman quarterback Brett Hundley received the Sibling of the Year Award for speaking on behalf his older sister, Paris, who has epilepsy. Her experiences have inspired his passion for the cause.
"I just want to do whatever I can to support the cause and raise awareness," said Hundley during his interviews with KTLA and CBS at the Walk. "Most people who haven't seen epilepsy first hand probably don't know what it's really about. Because of my sister, I've seen what it can do to people. This is a cause I'm passionate about. My sister is the strongest person I know."
Hundley took the main stage along with his mother and sister to kick off the ceremony, which included live band performances by emerging country singer and songwriter Stefani Rose, the UCLA Spirit Squad and the UCLA Alumni Band. Following the 5K Run and 1-Mile Stroll, Hundley took the stage once again to hand out medals to top participants such as thirteen-year-old Audrey Kaller.
After being diagnosed with epilepsy in early October, Audrey managed to raise $35,000 and a tremendous amount of awareness in the few short weeks leading up to the October 28th event, sending a resounding and inspiring message to teens with epilepsy and their families everywhere. With the support of her family, Audrey engaged relatives and friends as well as hundreds of students and community members by educating about epilepsy and seizure first aid, posting Walk to End Epilepsy flyers at local shops, and inviting everyone to join the fight to end the burden of seizures. Audrey, who is also a talented singer who has sung at Dodger Stadium, was invited to lead the crowd in singing the National Anthem.
"At the moment of diagnosis, our inclination was to protect Audrey's privacy and to shield her from the stigma, stereotype and ignorance that accompany most conversations about seizure disorder. But the more we learned about epilepsy, the more we understood the vast number of people that it affected, the more we came to realize that silence wasn't the appropriate response. The best way to protect Audrey was to educate the people around her," said Dana Kaller, Audrey's mother. "The Walk provided us with the means through which we could inform and activate a large group of friends, family and others in our community. We told everyone about Audrey's struggle and empowered them to help her and others. We dragged epilepsy into the light."
While the 2012 Walk is considered a success by comparison to previous years, it did not meet its designated $300,000 fundraising goal. In honor of November, which is National Epilepsy Awareness month, the Epilepsy Foundation of Greater Los Angeles encourages you to use the Walk platform to continue virtually raising funds and awareness about seizures. Please visit WalktoEndEpilepsy.org for more information.
ABOUT EPILEPSY
Without warning, seizures can happen to anyone at any age. When a person has two or more unprovoked seizures, they have epilepsy. Seizures do not all look the same and, according to the International League Against Epilepsy, there are currently more than 25 different recognized epilepsy syndromes affecting almost 3 million people in the U.S. and about 65 million people worldwide. Someone is diagnosed with epilepsy every four minutes and, this year alone, almost 200,000 people in our country will be diagnosed. To date, there are no known cures.
ABOUT THE EPILEPSY FOUNDATION OF GREATER LOS ANGELES
Established in 1957 as a 501(c)3 charitable organization, the Epilepsy Foundation of Greater Los Angeles is leading the fight to END EPILEPSY® and the burden of seizures. Our fundraising and community efforts support care, advocacy and education, today, while investing in research and hope for tomorrow. Visit us online at ENDEPILEPSY.org.