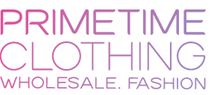 (PRWEB) November 16, 2012
PrimeTime Clothing, the online premium wholesale fashion apparel and accessory distributor, has offered holiday tips for retailers for the upcoming holiday shopping season. The holidays are historically the busiest and most important time of the year for retailers. PrimeTime has set out to help retailers utilize this period to its full potential, maximize profitability, and give their customers everything they want and need.
PrimeTime Clothing recommends that retailers shop early to help properly prepare for the throngs of customers set to hit stores in high numbers this holiday season. In many cases, retailers may need to reorder to fulfill client's urges/needs. According to PrimeTime, preparation is the key to meeting inventory demands and overcome unforeseen problems that arise as the shopping season heats up. Through PrimeTimeClothing.com, retailers can access the wholesale clothing they need to prepare for the holiday shopping season, today.
PrimeTime Clothing offers the latest fashions at wholesale prices. They supply a wide selection of quality wholesale clothes and wholesale accessories, including: wholesale dresses, wholesale tops, cheap clothes for men and much more. They offer some of the best deals online at rock bottom prices, so that retailers can pass the savings on to their customers. As the holiday shopping season fast approaches, PrimeTime Clothing is dedicated to helping retailers take the necessary steps to maximize success.
About PrimeTime Clothing
PrimeTime Clothing is an online premium wholesale fashion apparel and accessory distributor with low, discounted prices. Based in Los Angeles, they have high quality goods that arrive daily from hundreds of Los Angeles area manufacturers and importers, so their customers have access to the latest fashions. They have over 25 years of experience in the business of discounted wholesale apparel. They offer additional discounts on top of their already low below wholesale prices. For more information, visit http://www.primetimeclothing.com or follow them on Facebook, Twitter, YouTube, Pinterest, Tumblr, Google+, or Instagram.