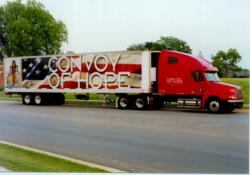 Springfield, Missouri (PRWEB) November 08, 2012
International humanitarian relief organization Convoy of Hope has dispatched 38 tractor-trailer loads carrying more than 1.5 million pounds of emergency supplies to storm survivors in New York and New Jersey.
"Our trucks haven't stopped rolling because our many supporters recognize the significant need residents of the Northeast are facing," says Jeff Nene, national spokesperson for Convoy of Hope. "Churches, civic organizations, corporations and individuals have partnered with us to meet the needs of so many people."
Convoy of Hope's Global Disaster Response team is working with local partners to coordinate more distributions in the coming days. An additional team of responders deployed from Springfield, Mo., Thursday and will assist teams already in place.
"By next week, we expect to have distributed more than two million pounds of emergency aid supplies, including food and water, to multiple sites in the region," says Nene.
Those wishing to make a contribution to the Hurricane Sandy relief efforts can make a secure online contribution by visiting: http://www.convoyofhope.org. To place a $10 donation on your cellular bill, text the word CONVOY to 50555. Standard text and data rates apply.
About Convoy of Hope
Convoy of Hope, founded in 1994, has a long history of responding to natural disasters and is recognized as a Charity Navigator first responder. Convoy of Hope, a faith-based organization, has a driving passion to feed the world through children's feeding initiatives, community outreaches, disaster response and partner resourcing. Learn more at http://www.convoyofhope.org or follow us on Facebook or Twitter.
Convoy of Hope
Jeff Nene, 417-851-4425
Mobile: 417-860-2196
National Spokesperson
jnene(at)convoyofhope(dot)org
or
Jeff Roman, 417-851-4424
Mobile: 417-942-7570
Public Relations Desk
jroman(at)convoyofhope(dot)org