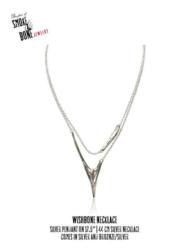 New York, NY (PRWEB) November 09, 2012
Now's the time to score galore with this dazzling launch of the Daughter of Smoke & Bone Jewelry Collection, inspired by Laini Taylor's highly acclaimed novel, Daughter of Smoke & Bone, which Entertainment Weekly called a "must read." The scintillating collection includes precisely styled pieces such as The Adder Bracelet, which seamlessly joins snake vertebrae on a simple thread of rubber, and The Donti Necklace, which features a tooth couplet on a thin silver chain!
The Daughter of Smoke & Bone Jewelry Collection, designed by Janet Cadaswan, is available exclusively at http://www.daughterofsmokeandbonejewelry.com, with online rollout slated for after Thanksgiving. All items are available in either10K gold, sterling, brass, bronze and steel, and range in price from $45 to $500.
Award-winning author Laini Taylor is donating all of the monies she receives for the Daughter of Smoke and Bone Jewelry Collection sales through January 31, 2013, including holiday sales to the Red Cross for the Hurricane Sandy Relief fund to help the families affected by the storm.
The Daughter of Smoke & Bone Jewelry Collection launches this week coinciding with Laini Taylor's Days of Blood & Starlight, the highly anticipated sequel to Daughter of Smoke & Bone
The Daughter of Smoke & Bone Jewelry Collection cleverly captures the visual essence of Laini Taylor's stunning novel, in which Karou, a seventeen-year-old art student in Prague, finds herself caught in the middle of a brutal age-old war between the chimaera, creatures with human and animal attributes, and the beautiful and dangerous seraphim. Featured in the collection are mystical "chimaera" charms, such as the exotic Smoke and Bone Tooth Pendant, the adorn-your-goddess silver Chimaera Antelope Necklace, and bracelets of brilliantly colored African trading beads a.k.a. "Scuppies."
When Karou meets a seraph named Akiva she is set on a path of self-discovery that leads to love, loss and war. This romantic chord marks the highlight of the Daughter of Smoke & Bone Jewelry Collection via a monumental piece of romantic proportions – a broken wishbone hung delicately on a double-layered chain. It symbolizes hope, wishes and love.
With a unique genre look that is glamorously Goth with a pinch of punk, the jewelry collection promises to thrill Daughter of Smoke & Bone fans and fashionistas alike. For him, must-have pieces with masculine verve include the Adder Necklace "man-ulet," which matches up with the Mephistis Necklace in bronze for her. All pieces perfectly pair with his and her black leathers, pegged denim, and mysteriously macabre maxis of this season's dark-sided sumptuous styles.
The Dazzling Collection for both men and women is just in time for this year's holiday season; prices will be in the moderate range $45 - $500. The Wishbone Necklace in silver $185. Tooth or vertebrae bracelets $420 in 10K gold and $97 in silver & $65 in bronze. Available now at http://www.daughterofsmokeandbonejewelry.com. Ship date for pre-sale orders is November 14th, 2012.
Laini Taylor's Daughter of Smoke & Bone and sequel Days of Blood and Starlight are published by Little, Brown Books for Young Readers.
To request jewelry samples, .jpeg images, or to schedule a jewelry interview with jewelry designer Janet Cadsawan, please contact publicist Sarah Heekin Redfield, Gachruda PR + M at sarah(at)gachruda.com or call, c: 541.420.0416.