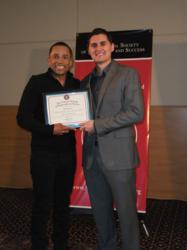 I am greatly honored to accept the Honorary Membership from The National Society of Leadership and Success," said Mr. Harper.
Hoboken, N.J. (PRWEB) November 14, 2012
The National Society of Leadership and Success today announced that Hill Harper, graduate of Brown University and Harvard University, accomplished film and television actor, was awarded Honorary Membership on October 30, 2012 from the Society.
Honorary Membership is one of the highest honors that The National Society of Leadership and Success can bestow upon a person outside of the organization whose accomplishments have been truly outstanding, have mirrored the values of the Society, and are of national significance. The Society bequeathed this Honorary Membership to Mr. Harper. Hill Harper is an accomplished film, television, and stage actor. He graduated Magna Cum Laude from Brown University and earned two graduate degrees from Harvard University. He stars in the hit CBS drama CSI: NY as Dr. Sheldon Hawkes. He is also the author of several books, including Letters to a Young Brother, Letters to a Young Sister, and The Conversation: How Men and Women Can Build Loving, Trusting Relationships. His latest book, The Wealth Cure, is helping young people change the way they view money so they can utilize it as a tool to find bliss.
"I am greatly honored to accept the Honorary Membership from The National Society of Leadership and Success," said Mr. Harper. Hill Harper continues, "This has been a great opportunity to be able to speak to college students across the Country by providing insight as to how college students should see money not as a goal but as a tool that provides freedom for following their passions."
About The National Society of Leadership and Success
The National Society of Leadership and Success was founded in 2001 to build leaders who make a better world. As of today, The National Society of Leadership and Success provides these stellar attributes to over 229,000 members nationwide and to over 320 active college chapters who embody the mission and serves as a powerful force of good in the greater community by encouraging and organizing action to better the world. societyleadership.org